OUR STORY at CHILD CARE BIZ HELP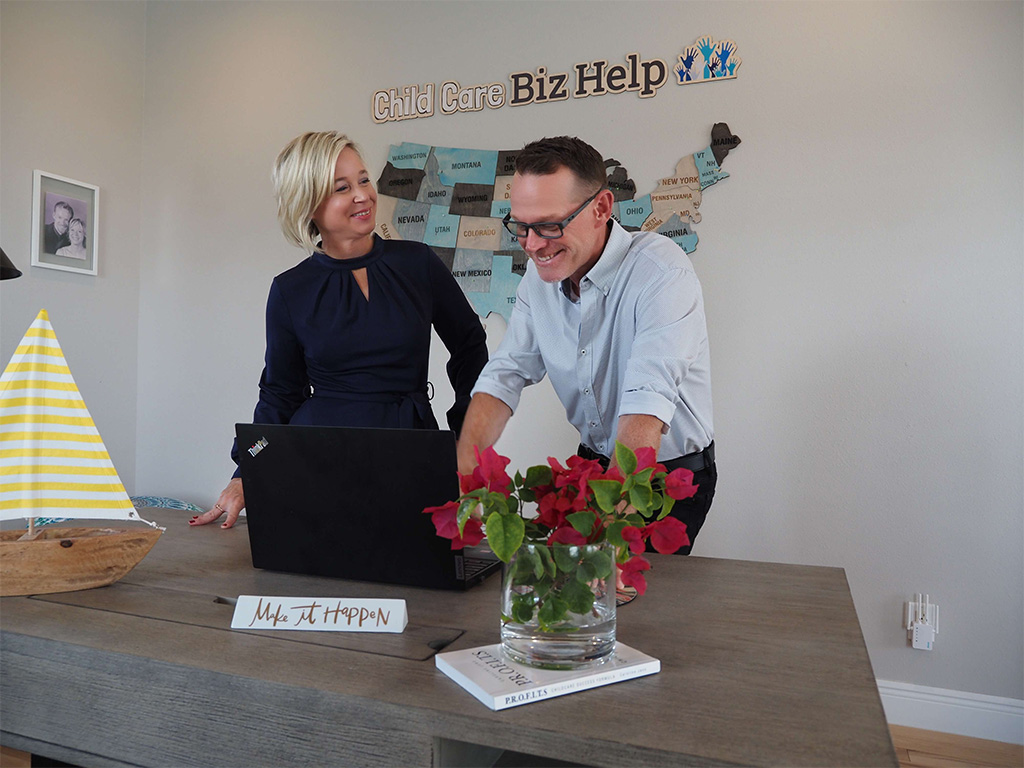 At Child Care Biz Help, our mission is to pioneer new child care brands for start-ups, level-up existing home and group child care centers, and develop creative resources for the early childhood education industry.
Caroline and Daniel Jens founded Child Care Biz Help driven by their deep passion for the family unit. Throughout their journey, they have dedicated extensive time to ministering and supporting couples, aiding them in building stronger marriages.
This passion seamlessly aligns with the mission of Child Care Biz Help, as they strive to establish and maintain high-quality childcare centers within communities. By providing excellent childcare options, they contribute to the strengthening of the family unit.
OUR CORE VALUES PROVIDE OUR FOUNDATION
DO OR DO NOT,
THERE IS NO TRY
Just like Yoda commands! We anticipate and believe we are unstoppable. We fail forward so we never regret not doing what we feel is the right move right now. We believe that you can achieve anything if you are focused, hard-working and have a roadmap.
We are idea generators and creative thinkers. It's important to us to provide the people we work with, custom and personable solutions.  We expose clarity through the mess of ingenuity. Throw another idea our way!
Whether you work for us or with us, welcome to the family. Family celebrates together, supports and uplifts each other, and never takes advantage. We impact each other in a way that understands the ripple effect of our actions. We know every family has a little bit of "crazy" and we are no exception. You'll feel at home here.
We strive to raise the bar every day. We are growth-minded. We believe that our only competition is who we were yesterday. We work hard. Like really, really hard. We believe in being "present where your feet are". When we're at work, we crush it, we produce big, needle-moving results. When we're not at work we live well, enjoy ourselves and reconnect with our personal values.
We are servant leaders using our talents to give back. We believe to whom much is given, much is expected. We believe in showing up for others with our hands, our hearts and our finances. We serve a mission and purpose bigger than ourselves.
Every. Single. Day. We choose a positive outlook. We choose to ground ourselves in gratitude. Whether we are working virtually or in person as a team, we do this with amazing energy and positivity. Each of us is happily only a text, email, call, or slack away when it comes to helping each other and our customers.
The Child Care Biz Help Team has helped numerous clients across the U.S. grow strong leaders in business acumen and leadership, create relevant and innovative operational improvements, design and execute marketing solutions, and even help solve schools staffing crises by building strong retention practices.
The signature "Another You" consulting program for existing childcare owners and directors is second to none, providing personalized guidance to help childcare providers achieve their goals. We are not like other consultants that just tell you what you're doing wrong but we also help owners and directors get the work done.
CHILDCARE FRANCHISE ALTERNATIVE
In addition to working with existing schools, the CCBH team has officially opened a handful of new childcare centers with new brands as part of their "franchise alternative" daycare start-up program. This full scope start up approach allows entrepreneurs the opportunity to create their own brand and to run a childcare center as they choose to run it without having to recreate the wheel.
The CCBH team walks alongside them through all the phases of a startup project: discovery/due diligence, pre-development/planning, design/development, pre-opening, and open for business. Plus, as these new owners establish schools without opting for the franchise model, they are able to save nearly $100k per year for life in franchise royalty fees, plus they own their brand!
Child Care Biz Help is not only the number one childcare consulting company in the U.S. but they are the only group of experts to offer both a turnkey and custom childcare start up solution. If you want to start a childcare center or take your existing childcare business to the next level, Child Care Biz Help is the ultimate partner for success.
Child Care Biz Help is entering its seventh year in business and continues to evolve and pivot as the early childhood landscape transforms.
Our Mission:
Pioneer new child care brands for start-ups, level-up existing home and group child care centers, and develop creative resources for the early childhood education industry.
Our Vision:
Achieve a higher level of success (Level-Up) personally and as a company, with purpose, confidence, and joy, always enlivened by our work.