OPENING A DAYCARE STARTUP?
SUCCESSFUL BRANDS BROUGHT TO LIFE
Whether you're an investor exploring a reliable industry, a director or teacher pursuing the dream of opening your own center, a parent aiming to provide the best childcare experience for your child, or a community development group seeking solutions in a childcare desert, Child Care Biz Help is the perfect franchise alternative to kickstart your journey.
Our all-encompassing start-up solution guides your team through every phase of launching your new school. Our collaboration begins with evaluating your project's feasibility and developing your distinctive brand, continues through the opening of your doors, and extends beyond, covering each vital step along the way.
Child Care Biz Help provides the benefits of a franchise without the substantial fees and ongoing royalties (6-12%, regardless of profitability), enabling you to establish a childcare center that genuinely addresses your community's needs. Our team's expertise guarantees a smooth and successful process in developing your new childcare center. We'll be by your side every step of the way, ensuring priorities are set, and milestones are achieved.
By opting for Child Care Biz Help as your franchise alternative, you'll gain access to our extensive industry knowledge, customized solutions, and individualized support. Together, we'll create a childcare center that leaves a lasting, positive impact on children, families, and the community as a whole.
STEPS TO OPENING A CHILD CARE CENTER
As a new start-up client, the Child Care Biz Help team will guide you through the following three phases to ensure you are ready to open your doors successfully, feeling fully equipped.
The assessment phase is so important to starting your project off correctly. During this phase, we uncover any barriers to your project and discover all opportunities that may be involved with your new school.
Determine location feasibility of success
Analyze competition (brands, utilization, wages, tuition)
Prepare state licensing process for owner
Provide a clear course of action for the entire project
Complete financial projections
The development phase is where define your brand, create plans, and establish operations. During this phase, we get gain traction in all the preparatory steps to ensure all necessary processes are established and that your school has a clear identity.
Brand and logo development
Define programs
Develop marketing plan
Design marketing pieces
Build vendor relationships
Develop staffing plan
Establish all procedures and processes
Develop administration rulebook
Establish metrics for team accountability
The implementation phase is all about the execution that takes place before the finish line. During this phase, we ensure all tasks are completed in order to successfully open the doors of your new school. Our team sticks with you two months beyond the open date to help owners feel supported.
Obtain probationary license
Supply and equipment
Marketing plan
Staffing plan and recruitment of key positions
Administration accountability tools
Grand opening
Leadership training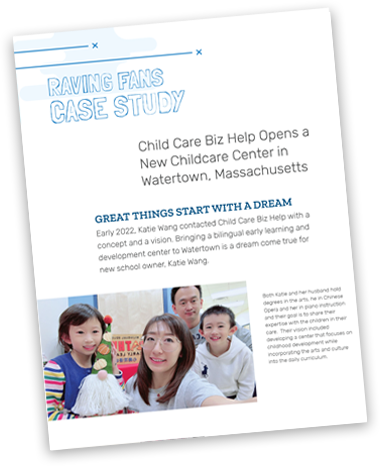 RAVING FAN CASE STUDY
Child Care Biz Help Opens a New
Childcare Center in Watertown, Massachusetts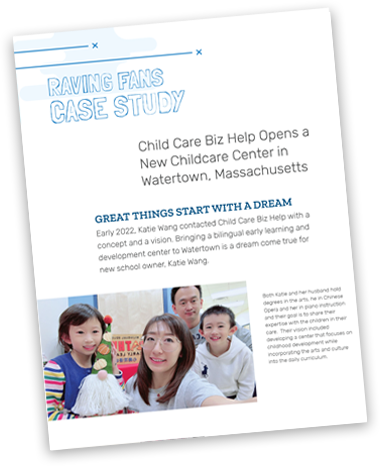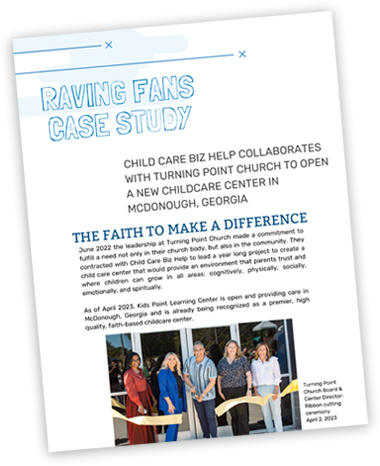 RAVING FANS CASE STUDY
CHILD CARE BIZ HELP COLLABORATES WITH TURNING POINT CHURCH TO OPEN A NEW CHILDCARE CENTER IN MCDONOUGH, GEORGIA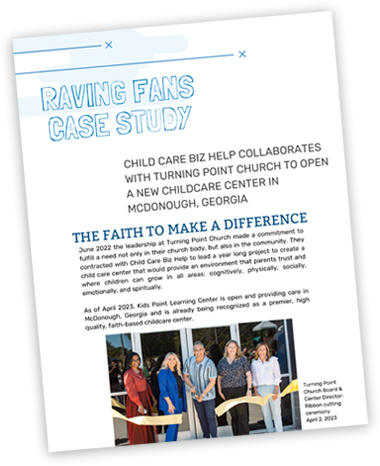 ESSENTIAL FIRST STEPS FOR STARTING CHILDCARE CENTERS OR EXPANDING LOCATIONS
When launching a new childcare center or expanding to an additional location, it's crucial to determine the feasibility of success. A comprehensive feasibility study, combined with target modeling, can effectively assess various factors that contribute to a potentially profitable daycare, such as:
Average household incomes
Population demographics
Childcare spending per household
Growth in the population of children aged 0-11
Population density and drive times
Competitive market saturation
Protect your investment by meticulously conducting the required due diligence in the community you're considering for your new school. You don't want to spend $1 million plus on a location with low potential profitability. Consult our team of experts for a feasibility study and target modeling to ensure your next project's success.
READY TO GET STARTED? FILL OUT THE FORM BELOW
READY TO TACKLE OPENING A CENTER ON YOUR OWN? OUR RESOURCES MAY HELP!