CHILD CARE BUSINESS RETREATS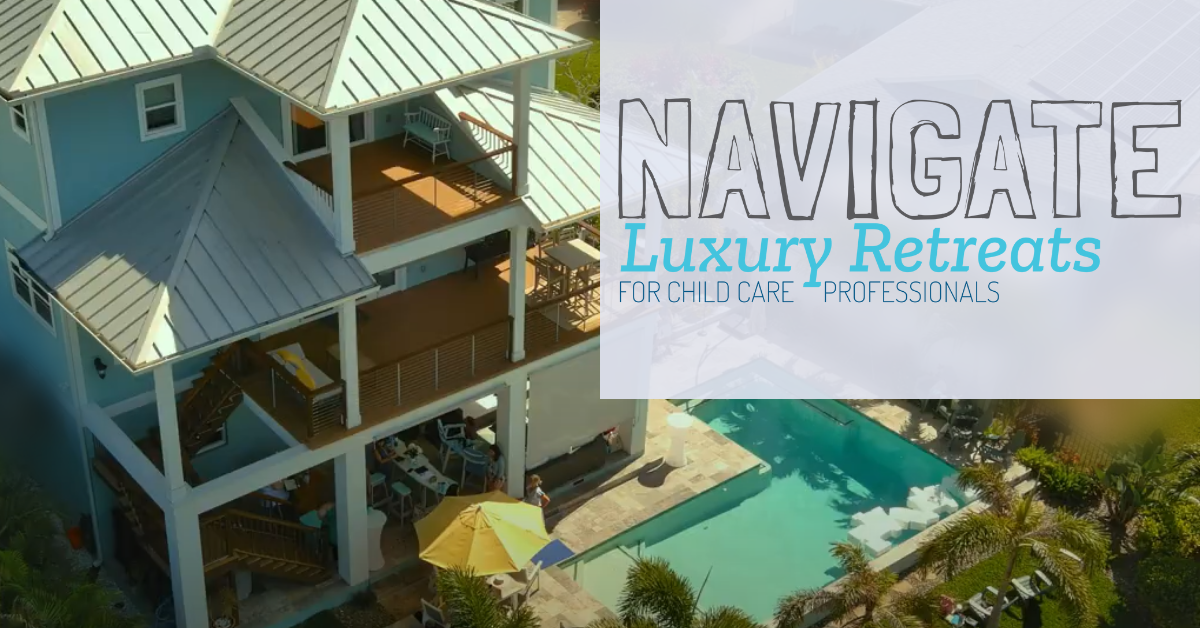 As a company, we are always looking for ways to provide added value to
our customers and the child care industry as a whole.
HOW YOU ASK?
Navigate Luxury Child Care Retreat is how!
At our unique retreat experience, attendees will:
Share successes and missteps with like-minded professionals in an intimate environment that is safe and where your feedback is welcomed.
Become equipped through strategy plus they will find balance in learning with time to relax and unplug - unlike any other conference around.
Grow from small group interactions with other like-minded early education professionals.
NOT be confined to a large and overwhelming conference center.
NOT see any conference chairs (they get so uncomfortable!).
See a dolphin (or two) swimming just off the pier.
And most of all, an environment where strangers become friends and friends become family. When we figured out how to do this, that is when child care retreats were born.
TAKE A MOMENT & THINK ABOUT...
» How much time you actually spend in the training sessions at conferences
» How uncomfortable you are in those conference chairs
» How much money you spend on meals, drinks, and evening entertainment
» How isolated you can feel if you come alone
» What you really value about those indoor, packed house events
» How much you love being pitched additional products and services, over and over again
NOW LET'S INTRODUCE YOU TO A NEW WAY TO EXPERIENCE A CHILD CARE EVENT
Say goodbye to childcare events where you sit in a boring conference room on an uncomfortable chair listening to regurgitated content that may or may not apply to your needs!
Having hosted many small high-level strategy events, we have found these bring a ton more value to attendees; especially if you want to build a network of peers that will help you level up your childcare center(s).
GET TO KNOW NAVIGATE
A One-of-a-Kind luxury child care event, hosted at Child Care Biz Help Headquarters in sunny St. Petersburg, Florida!
Time is money, right? We know every minute you spend at a Navigate Luxury Experience will bring enormous value from the time you arrive until the time you leave.
The intimate group that attends a Navigate Luxury Experience will have the ability to strategize and feed off the energy and passion of like-minded successful childcare owners.
Learn all about upcoming events, speaker info, get a taste of what you can expect and register by visiting our Navigate Retreat site!
DON'T MISS THE NEXT RETREAT!
Space is limited and will go quick, don't wait! Register today!
NEW DATES ARE COMING SOON
CHECK OUT CHILD CARE BIZ HELP HEADQUARTERS!
QUESTIONS ABOUT THE RETREAT?