Having a website that speaks to both Parents & Teachers is crucial to the success of your center. Your website is like a giant, interactive billboard for your center and having a thoughtfully designed and well developed website is something that should not be overlooked. We are experts at building childcare websites that speak to both families AND potential employees. Get started with Child Care Biz Help TODAY.
When is the last time you did a review of your website to make sure the content, pictures and website itself is up to date? Here are some questions to ask yourself:
Is my content current?
Have I uploaded new photos within the last year?
Is my website optimized for mobile?
Does my website accurately represent my center as it is today?
Is my website easy to navigate?
Do I have a call-to-action on my homepage?
Is all my contact/location information up to date?
Can potential parents contact me with questions directly from my site?
Do I have a career page that speaks to the employees that includes MORE than a job listing?
Is there a way for a potential employee to apply on my site?
Did you answer 'No' to 3 or more questions? If so, you are in need of a new website!
SEE OUR WORK FOR YOURSELF!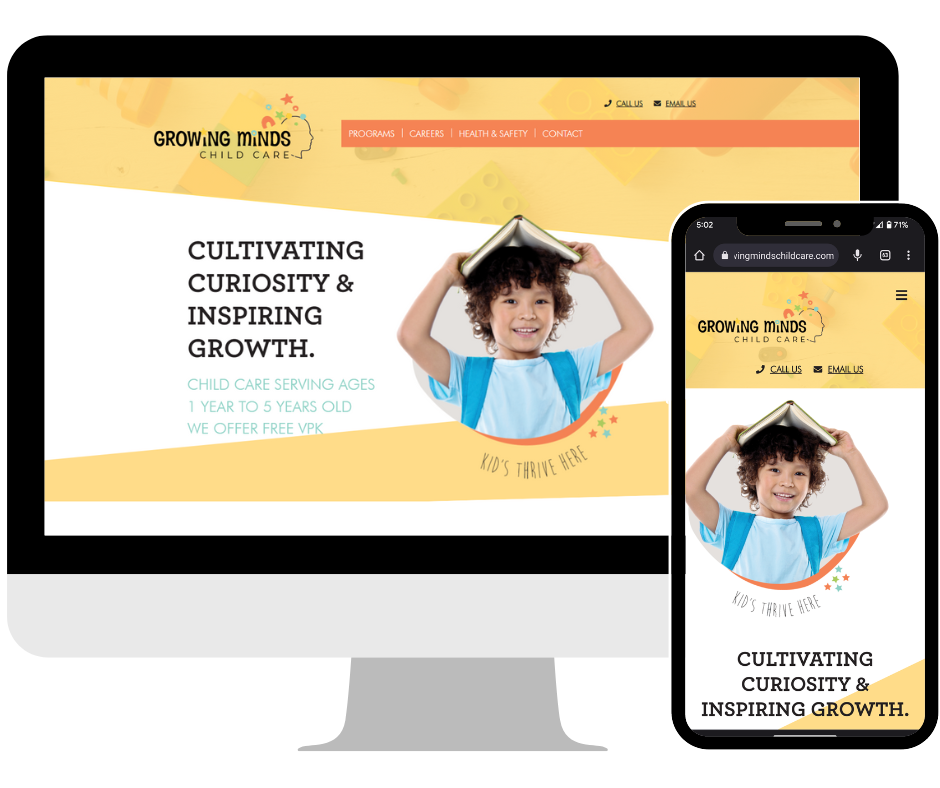 Growing Minds Childcare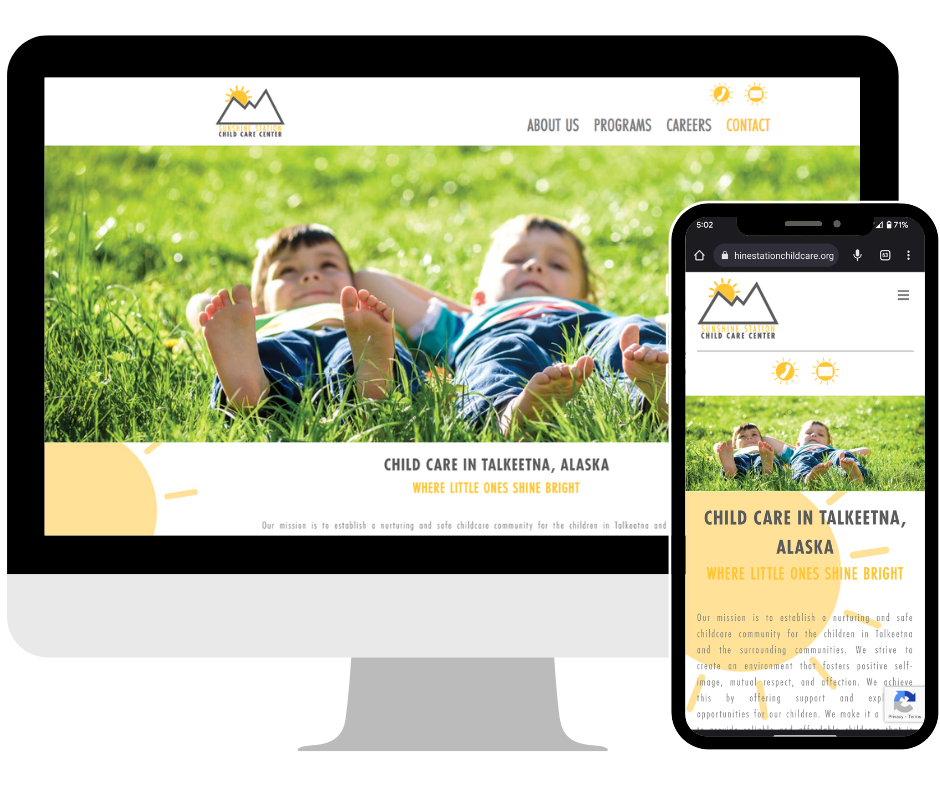 Sunshine Station Child Care Center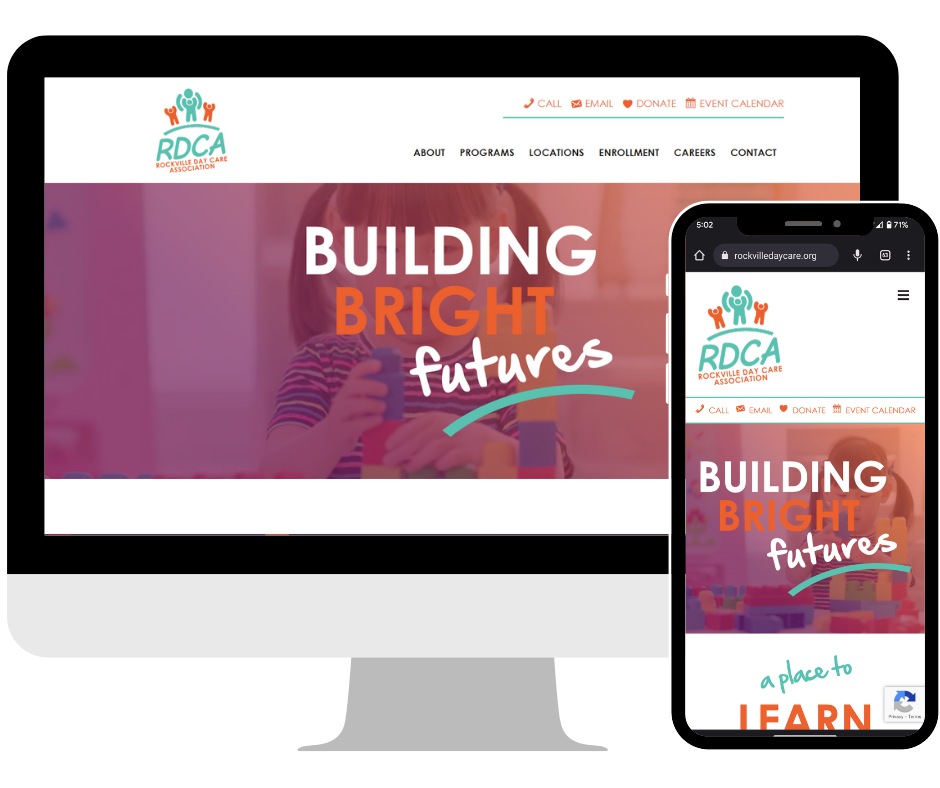 Rockville Daycare Association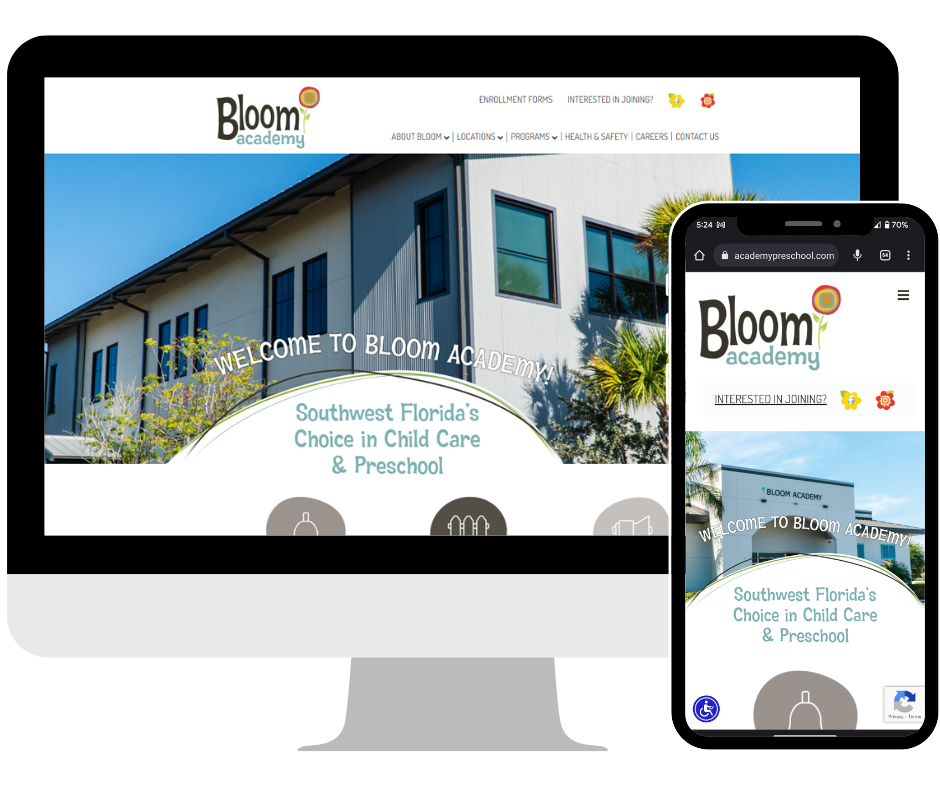 Bloom Academy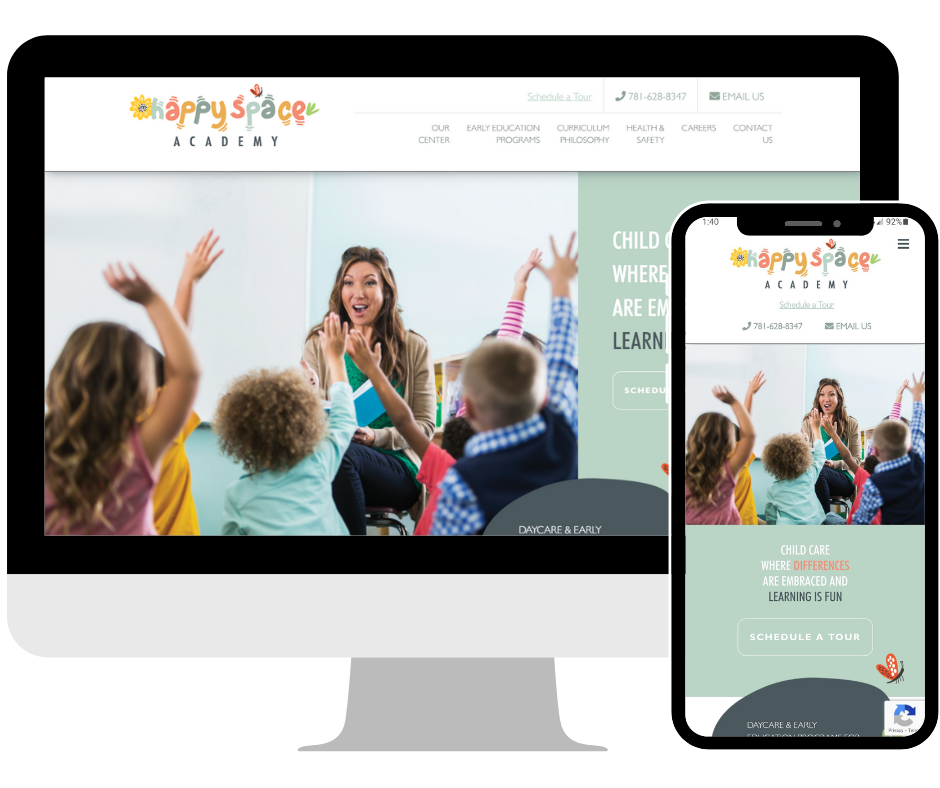 Happy Space Academy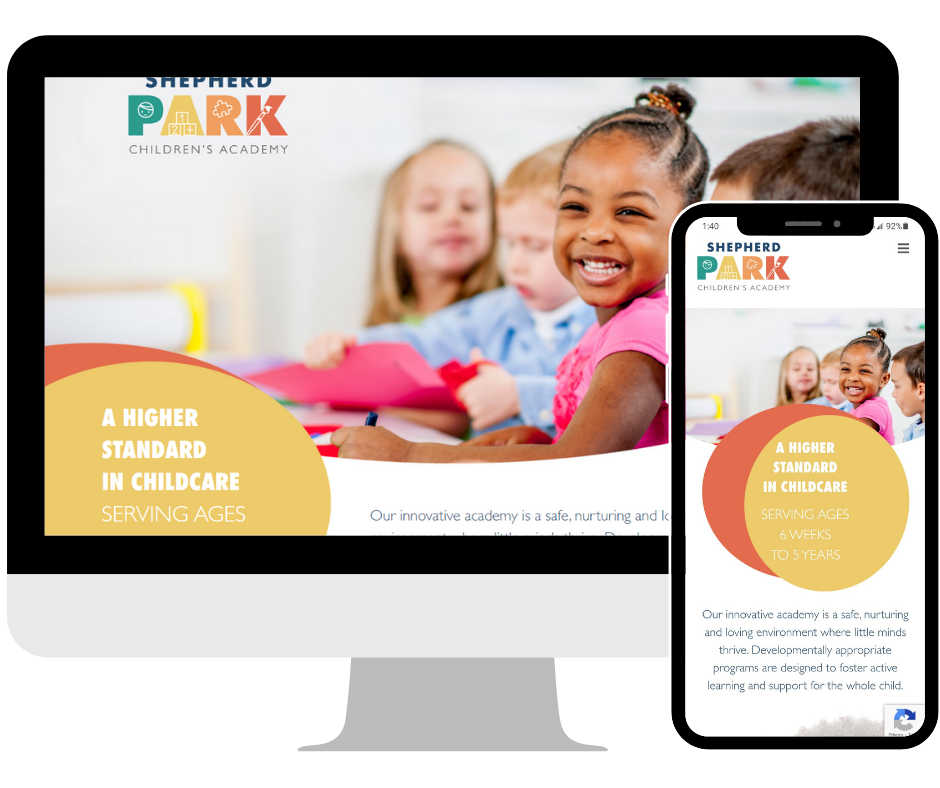 Shepherd Park Children's Academy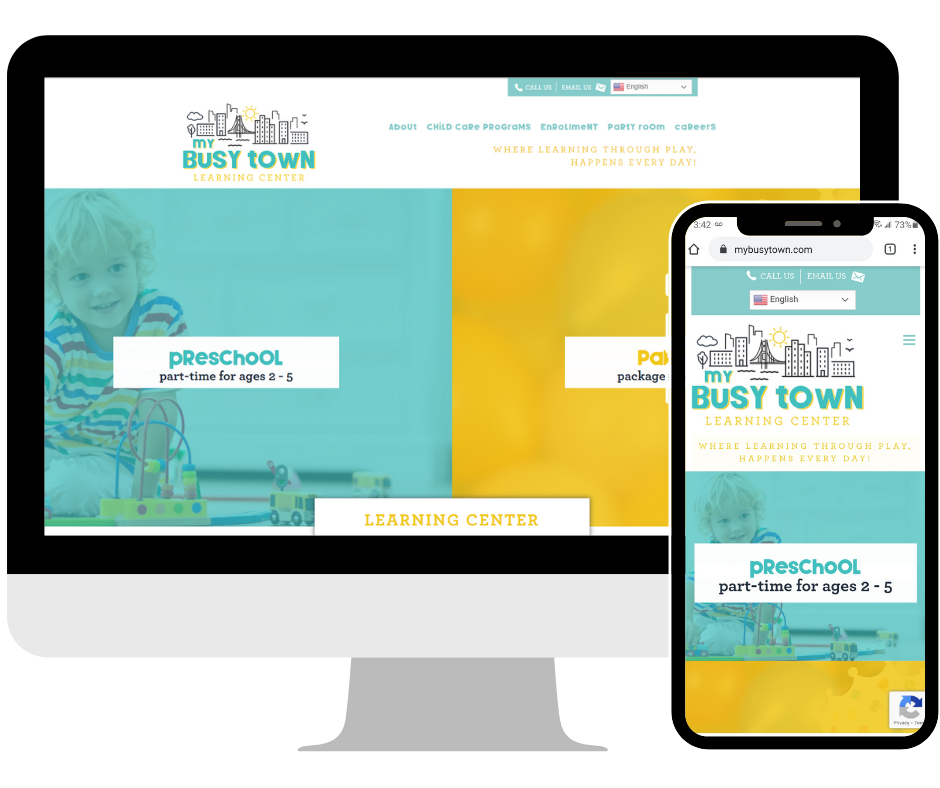 My Busy Town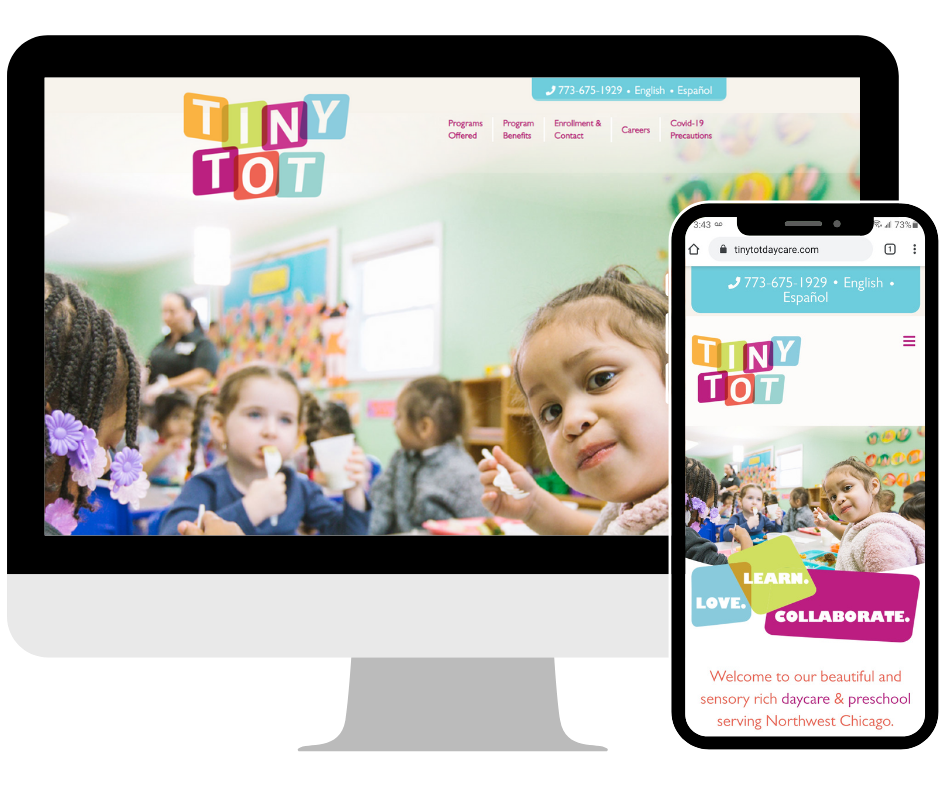 Tiny Tot Daycare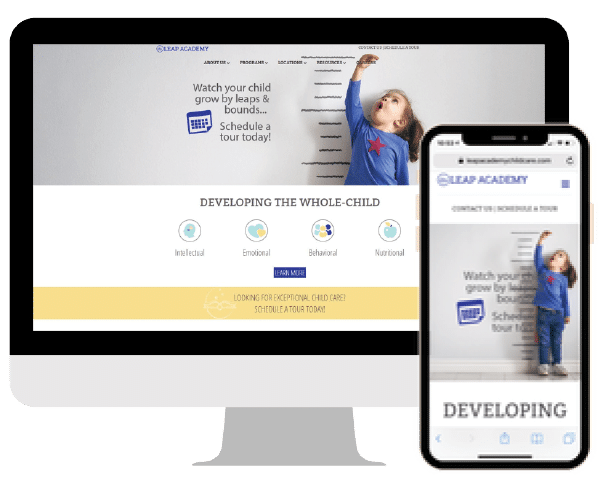 Leap Academy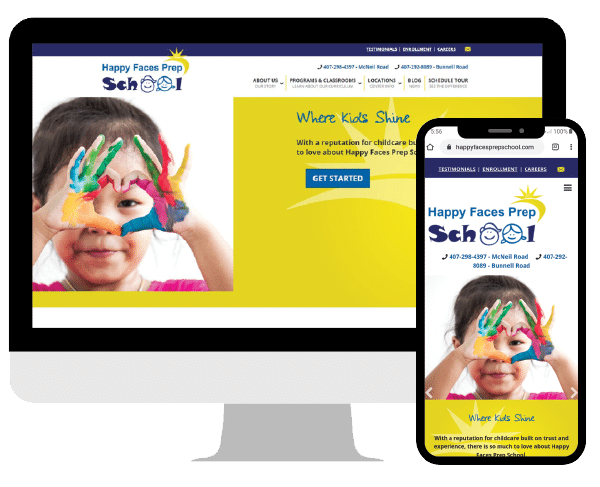 Happy Faces Prep School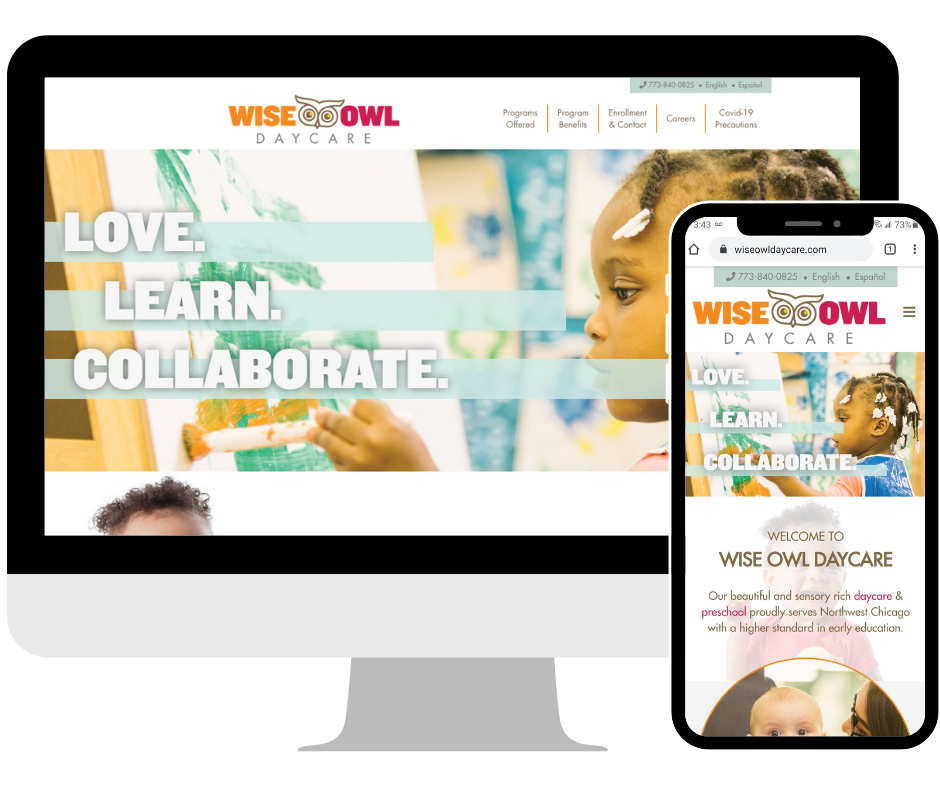 Wise Owl Daycare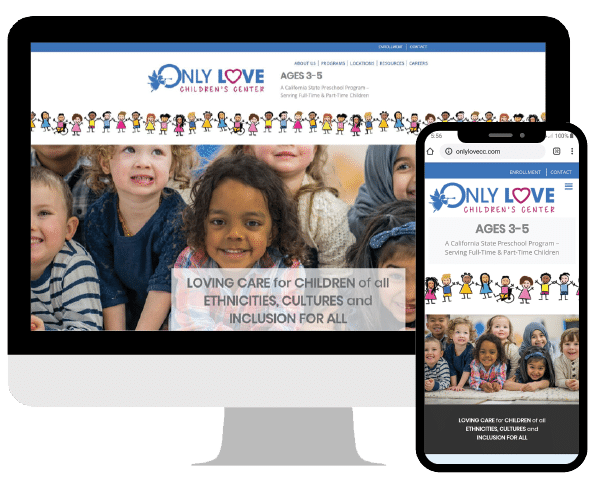 Only Love Children Center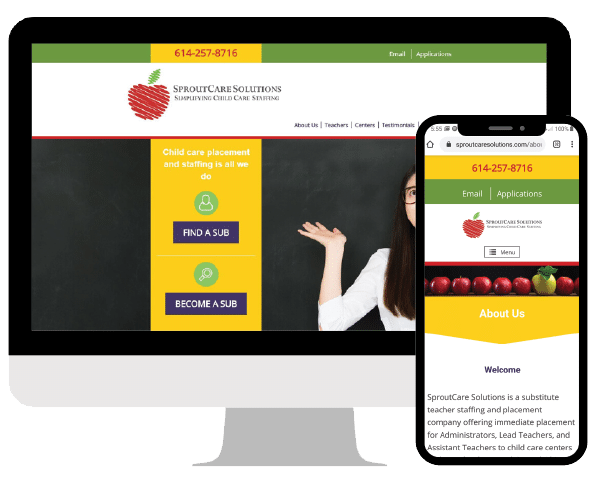 Sprout Care Solutions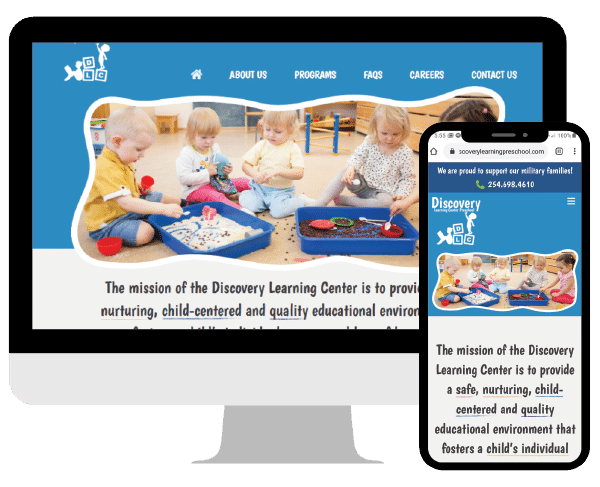 Discovery Learning Center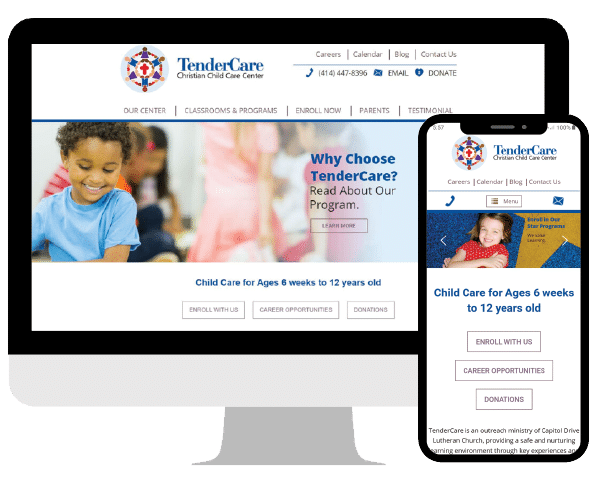 Tender Care Christian Child Care Center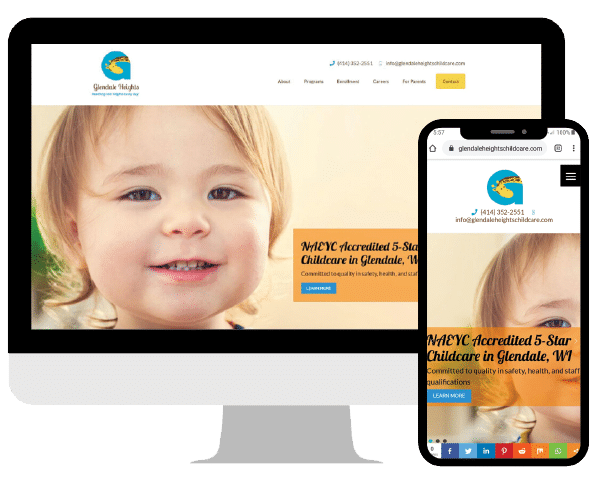 Glendale Heights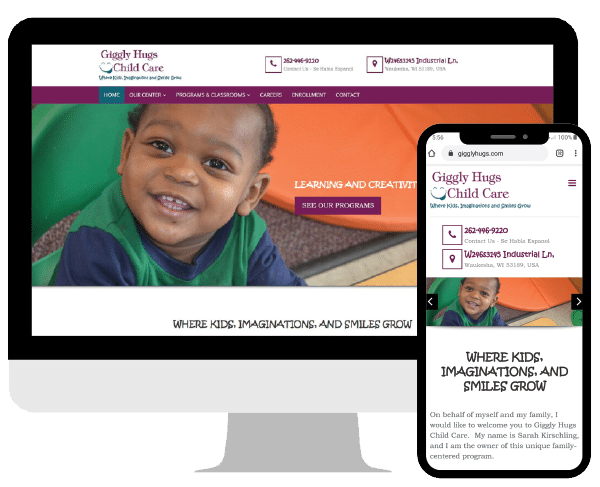 Giggly Hugs
Growing Minds Childcare

Growing Minds Childcare is a new start up and were in need of not only a new brand and all its components but also a new website.

This included:

On-site SEO
Keyword rich content
Logo & brand creation and design

Website Designed 2023

Sunshine Station Child Care Center

Sunshine Station Child Care Center is a childcare center located in Alaska. They already had an established name and customer base but were looking to expand to a larger center and create a greater online presence to attract more families in the area in need.

This included:

On-site SEO
Keyword rich content
Redesign of Logo & brand creation

Website Designed 2023

Rockville Daycare Association

Rockville Daycare Association is a well-established child care center with many locations. The board was looking for a fresh look on their website while still including crucial information necessary for their families.

This included:

On-site SEO
Keyword rich content

Website Designed 2023

Bloom Academy

Bloom Academy had recently expanded from two centers to four centers and was looking to update the website to include the new locations and moving around some other content. Because of the extensive moving around and revised site map, it made more sense to redesign the website.

This included:

Streamlined brand identity
On-site SEO
Keyword rich content

Website Designed 2022

Happy Space Academy

Happy Space Academy is a new start up. The owners had the desire to open up a child care center and choose to purchase an existing center and rebrand it.

This included:

On-site SEO
Keyword rich content
Logo & brand creation and design

Website Designed 2021

Shepherd Park Children's Academy

Shepherd Park Children's Academy is a new group child care center. SPCA went from an in-home center and expanded into a group child care center offering care to neurotypical children as well as care and therapies for children on the spectrum.

This included:

On-site SEO
Keyword rich content
Logo & brand creation and design
Language that speaks to families with neurotypical children and children on the spectrum

Website Designed 2021

My Busy Town

My Busy Town has a unique offering. They offer child care as well as the ability to host parties for children, so they needed a website that spoke to both, without it being confusing to potential clients.

This included:

On-site SEO
Keyword rich content
Logo refresh
Easily distinguishable content depending on info the user is looking for

Website Designed 2020

Tiny Tot Daycare

Tiny Tot daycare had a simple, single page site. In order to ensure keyword rich content and the ability to turn up in search engines along with a rebrand, a new website was just the simpler option.

This included:

On-site SEO
Keyword rich content
Logo facelift
Ability to also have information display in Spanish

Website Designed 2021

Leap Academy

Leap Academy had recently acquired a second location and needed to add that information for their current site. At the time, while determining the best way to add this information, it was decided that instead of doing a dramatic overhaul of the site, it would be easier to design and build a new one.

Additionally, at the time of acquiring a second location, the owner felt it was time to truly develop of brand for her child care centers. Child Care Biz Help quickly got to work on re-branding and a new site.

This included:

Logo Facelift
New color palette
New Brand Identity
'Watch your child grow by leaps & bounds' to 'Developing the Whole-Child'
Development of Core Values

Website Designed 2020 *Some of these items are out of the typical scope of work for a website and may include additional costs.

Happy Faces Prep School

Happy Faces Prep School had an outdated website. It would have cost more to fix it, then to just build an entirely new website.

They really need a site that told their story and communicated their brand effectively.

This included:

On-site SEO
Keyword rich content
Blog to spotlight teachers
Career Page
Downloadable eBook to capture leads

Website Designed 2018

Wise Owl Daycare

Wise Owl recently refreshed their brand and with that refresh, they felt it was time to do the same to their website

This included:

On-site SEO
Keyword rich content
Logo facelift
Ability to also have information display in Spanish

Website Designed 2020

Only Love Children Center

Only Love Children's Center did not have a website. We needed to not only create a website, but truly define their brand

This included:

Logo Refresh
Define USP
Bring focus to their voice
Write keyword rich content
On-site SEO

Website Designed 2019 *Some items may be out of the scope of work for a typical website and may include additional charges.

Sprout Care Solutions

Sprout Care Solutions was a new company that needed a new website to tell their story

This included:

Write keyword rich content
Create brand identity
On-site SEO

Website Designed 2018

Discovery Learning Center

Discovery Learning Center did not have a website and was in need of a fresh design to tell their story.

This included:

Logo Refresh
Define brand
Write keyword rich content
On-site SEO

Website Designed 2019 *Some items may be out of the scope of work for a typical website and may include additional charges.

Tender Care Christian Child Care Center

Tender Care Christian Child Care Center had a splash page on the church website. They needed to define their identity and have a website specific to their center.

This included:

Define brand
Write keyword rich content
On-site SEO

Website Designed 2018

Glendale Heights

Glendale Heights Child Care Center had an outdated website. They were in need of a website facelift.

This included:

Define brand
Write keyword rich content
On-site SEO

Website Designed 2018

Giggly Hugs

Giggly Hugs did not previously have a website. We needed to create a new design for their brand.

This included:

Write keyword rich content
On-site SEO

Website Designed 2018
IN NEED OF A NEW WEBSITE? FILL OUT THE FORM BELOW