CHILD CARE LEADERSHIP SUBSCRIPTION BOX
Injection of fun mixed with valuable leadership resources all in one box for the busy center director
Experience...LeaderSHIPPED!
LeaderSHIPPED is a quarterly subscription of resources mixed with excitement for your childcare team, delivered right to the office.
You're one step away from impacting positive change! Finalize your subscription now to equip your leadership team with awesome tools and gadgets.
We are currently accepting pre-orders that will ship out in Early December! Order yours today!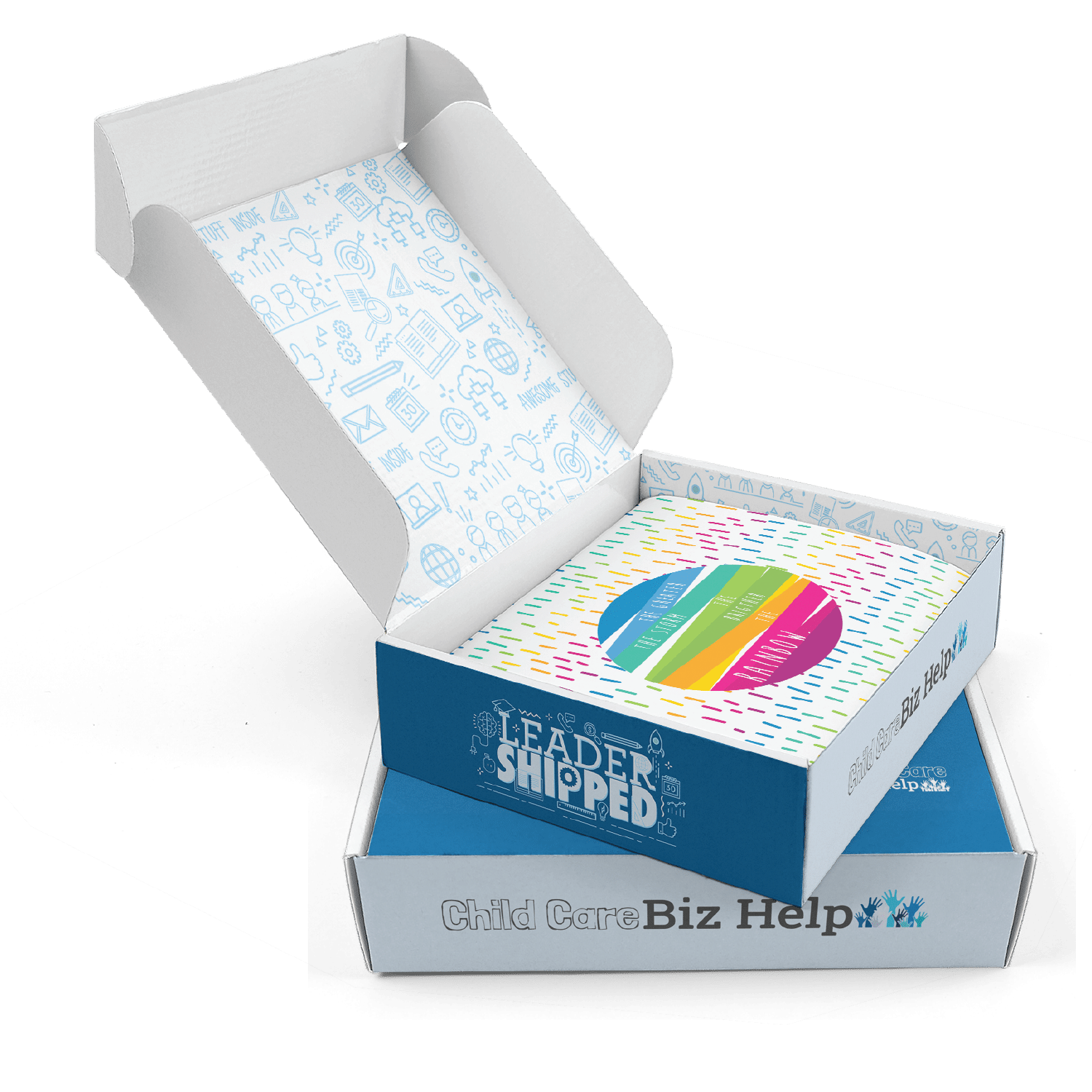 The Winter LeaderSHIPPED box is designed specifically for hard working childcare center directors. Let's start the year off focusing on positivity! We are still working on compiling all of our partners for this box, so be sure to check back as we continue to update the content of the box!
What can you expect in our Winter box?
Our feature item is the Director Prioritizing Leadership Journal - Designed to help keep a center director's week organized and focused.
We know firsthand how hard it is to keep a pulse on everything in a childcare center. We used that experience to create the Prioritizing Leadership Journal. Not only will this daily journal keep a director organized, but it will keep them working on the right stuff!
What does a typical journal day look like?
Today's ONE thing that must be accomplished
To-do list in order of priority
Space to write down brilliant ideas
Space for gratitudes
Plus, woven into the weeks are spaces to document employee follow-ups, anniversaries, big picture goals and even time for reflection.
The best part, every quarter you recieve a new journal with a new theme!
Order for yourself or for someone on your team
Winter orders must be received by November 20th to ensure delivery by January 1st
Choose your plan - One time purchase or annual subscription
Sit back and wait for delivery day!
Join the Facebook Director LeaderSHIPPED community
What will I get in my box?

Prioritizing Leadership Director Journal
Wellness cards designed for a director stuck at a desk all day
Complimentary Coaching Session
Fun theme specific surprises
Access to the director LeaderSHIPPED Facebook community
When will my box ship?
We want your box to be delivered before the 1st day of each new quarter. Expect your favorite piece of mail—your box!—to ship by the 15th of the month before the start of a new quarter. Want to keep tabs on your box? We'll send you the tracking info via email each quarter.
Can I purchase the Prioritizing Leadership Journal separately
Yes you can. Visit our products page and purchase directly from there.
Do you ship internationally?
Yes! Please contact us via email for more information!
Take a look at what was in our Fall box!