Community Improvement Group Collaborates with Child Care Biz Help Transforming Early Childhood Education in Madison, SD 
In Madison, South Dakota, the call for accessible, affordable, and superior childcare has reached a critical point. To address this pressing demand, Lake Area Improvement Corporation (LAIC) and Child Care Biz Help have teamed up, aiming to bring in a childcare partner that can accommodate over 100 children.
This initiative not only responds to the community's needs but also serves as a robust support system for the local workforce, including countless moms and dads. By creating this substantial and sustainable solution, they aspire to bring lasting benefits to the entire community.
The Partnership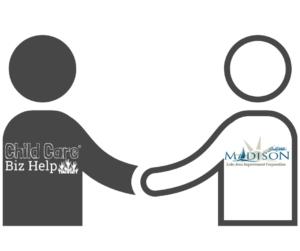 This partnership aims to establish a new childcare center, addressing the critical shortage of childcare facilities in the area. The project will kick off with a due diligence study to assess the need and demand for childcare services in Madison.
Subsequently, Child Care Biz Help will lead the charge in collaborating with local businesses, stakeholders, and community members to raise funds, develop marketing campaigns, and participate in the design and construction of the facility. Ultimately, the goal is to establish a high-quality early childhood education program run by a competent childcare partner.
This initiative will have a significant impact on the lives of the 94% of parents in the community who work each day and struggle to find reliable care for their children, according to Brooke M. Rollag, Executive Director of LAIC.
Rollag expressed her gratitude for the partnership with Child Care Biz Help, stating that the company's sincerity and commitment to improving the childcare industry were evident from the very beginning. Caroline Jens, Co-Founder of Child Care Biz Help, shares this dedication and passion, ensuring that careful planning and execution go into every step of the project.
Conclusion
The collaboration between LAIC and Child Care Biz Help serves as an inspiring example of how community development groups and industry experts can work together to solve pressing problems like the childcare crisis. By providing accessible, affordable, and high-quality childcare services, Madison will not only support the needs of working parents but also create an environment where children can thrive and receive the best possible start in life.
Need Childcare in YOUR Community?
If your community is facing similar childcare challenges, consider partnering with Child Care Biz Help to develop a sustainable solution. Our full-service start-up solution covers everything from project feasibility to brand development, walking alongside you throughout the entire process. With their guidance, you can help ensure a brighter future for your community's children and families.
Learn More About Child Care Biz Help
As always, please let us know your questions & thoughts in the comments box below, and subscribe to our blog!