Teacher Appreciation Week 2017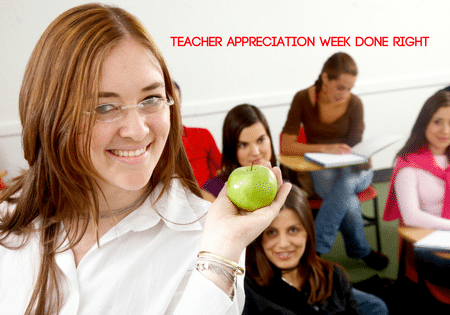 Monday May 1- Friday May 5
Teacher appreciation week is fast approaching! This is a very special week for early educators. The significance behind this week is to ensure the teachers feel appreciated, and at the end the week they feel their hard work has been recognized by both leadership and the parents. How do your teachers feel after teacher appreciation week? Is your approach to teacher appreciation week relaxed or well thought out? Do you engage your parents into helping make this a week that is unforgettable?
Parents play a significant role during this week. When a teacher knows a parent appreciates their hard work and how they treat their kids, it means a lot. Additionally, how leadership handles teacher appreciation week can reflect the culture and attitudes of your team. If you are in charge of teachers, whether you're the owner, center director or administrator, put lots of thought and planning into make this a week all about your teachers.
So how do you get your staff and parents engaged to make this a week your teachers will remember?
At our center we took teacher appreciation week very seriously. We always planned at least six months ahead and ensured that we had a budget set aside specifically for this week. Our parents were notified well in advance of what we desired of them to help make their teachers feel appreciated.
Preparation:
1. Let your parents take charge of at least one day of teacher appreciation week. Allowing them the opportunity to organize at least one day will help build stronger relationships between your teachers and parents. To ensure the day is a success, make sure you communicate clearly what parents will be responsible for.
2. Get the kids involved. They should be a big part of the week. Encourage the parents to have the kids make something for their teacher. Have the center Director go into each classroom and address the kids about what teacher appreciation week is all about.
3. Do not forget your leadership team. It's critical that you carefully plan what you will do for them. They work very hard to keep your center running at peak performance and they deserve added attention from you.
4. Ask local businesses to donate items to provide as gifts. Starbucks or Subway may donate $5 gift cards. Restaurants may cater coffee or breakfast for your staff for free. It doesn't hurt to ask... right!
5. Have a budget designated just for this week.

Fun ideas:
In terms of what specifically you do for your teachers during this week, there are plenty of good ideas.  If you don't have a big budget, consider other types of activities or just showing extra interest in your teachers rather than purchasing gifts and food. Here are some ideas we have tried:
Free food with fun themes (see gallery of ideas below)
Have the owner(s) host a cookout and actually do the cooking. This was so well received by our staff we do it every year.
For gift day, be creative... there are many ideas you can find on Pinterest, but one thing we liked to do, was give an alternative gift for teachers that had worked for us for over two years. We implemented this as a way to show appreciation for longevity.
Teachers love bags. Get your logo put on a tote bag and give as gifts.
Personal thank you card written to each teacher by their manager.
Bring in a massage therapist for an afternoon and have them give massages to your teachers during the breaks.
An evening trip to get ice cream or a snack day that includes all the fixn's for ice cream sundae's.
Fun socks
Step in and give extended breaks to your teachers throughout the week. When you provide the extended break, considering reading a favorite book to the class. This will allow you to connect a little extra with the kids.
Bring in baby puppies after work for the teachers to hug.
Give coupons to each teacher with various giveaways (ie, jeans day, come in late day, leave early day, extended lunch day).
On social media consider highlighting various teachers each day to recognize the each individually for accomplishments they've had over the last year.
Other Teacher Appreciation Gift Ideas
No matter what you decide, communicate exactly what activities will take place during teacher appreciation week. Most importantly, don't miss out on making personal connections with your staff this week.  Share individual compliments with each of your staff. They desire your approval and appreciation so you taking time out of your busy week to thank them personally, will mean a lot!