Child Care Biz Help Opens New Childcare Center in McDonough, GA [Incl Case Study]
The Faith To Make A Difference
In June 2022 the leadership at Turning Point Church made a commitment to fulfill a need not only in their church body but also in the community. They contracted with Child Care Biz Help to lead a year-long project to create a childcare center that would provide an environment that parents trust and where children can grow in all areas: cognitively, physically, socially, emotionally, and spiritually.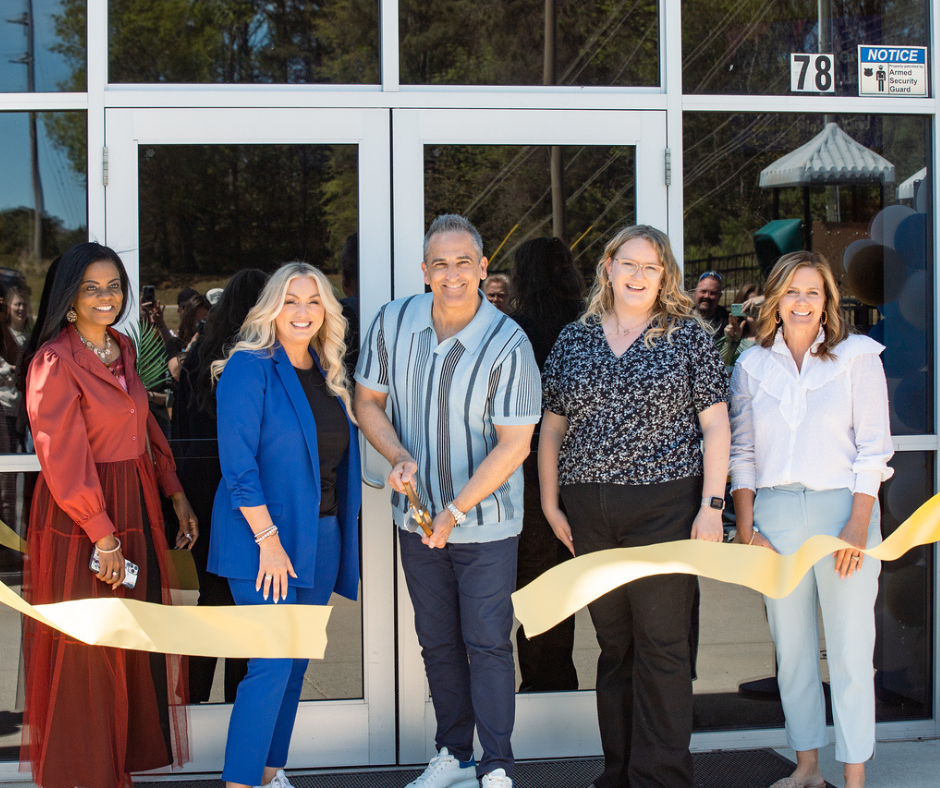 As of April 2023, Kids Point Learning Center is open and providing care in McDonough, Georgia, and is already being recognized as a premier, high-quality, faith-based childcare center.
Approach
The project started with a mild renovation of some of the existing church Sunday school spaces totaling seven rooms and nearly 3,000 square feet of space. The outdoor parking lot would require some major renovations to be fitted for a playground as the space was just concrete.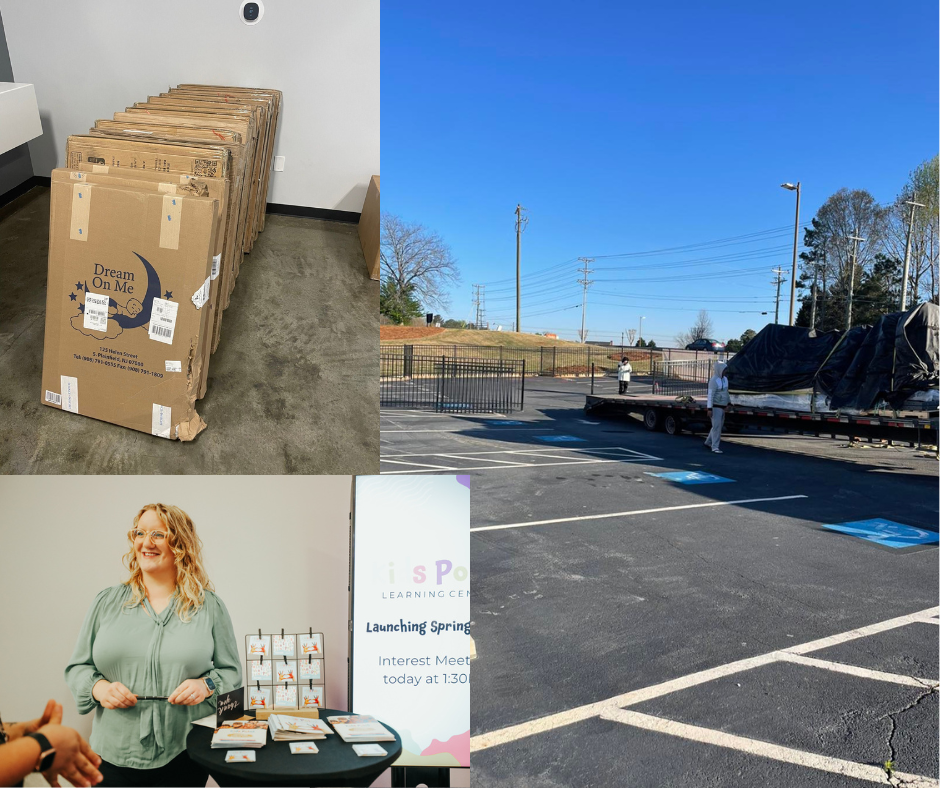 In conjunction with the construction, the team at Child Care Biz Help worked diligently on the rest of the project:
Financials (forecasts, budgets, tuition pricing, wage structure)
Licensing (state requirements, inspections, certifications, programs, training)
Brand Development (name, values, vision, logo, colors, fonts)
Program Development (philosophy, purpose, ages served, curriculum, classroom)
Equipment (supplies, vendors, software, systems)
Operations (policies, procedures, forms, checklists, handbooks
Sales and Marketing (brochures, social media, ads, signage, lead tracking)
Recruitment (job descriptions, director, teachers, ads, interviews, onboarding)
Leadership (metrics, accountability, reporting, coaching, development)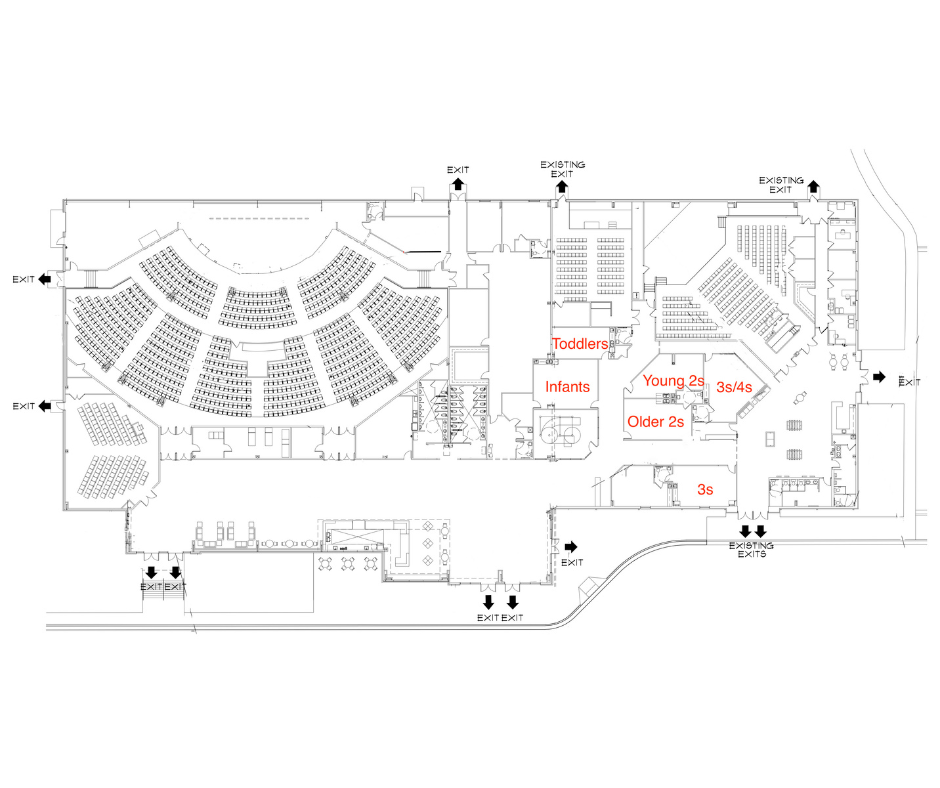 Results

Financials
Kids Point had a limited number of classrooms that also had to be shared with the Turning Point Church Sunday School program. To utilize the space correctly classroom layout and age group placement become extremely tricky and important. We analyzed the best use of the space to maximize age groups for maximum revenue and teacher/student comfort while still allowing for easy room transition for Sunday school activities during non-school hours.
A competitive analysis was conducted to determine both tuition rates and employee wages. Armed with all these facts, along with years of peer industry data, a budget was created and a financial forecast for the next three years. This information is extremely useful for new start-ups so they can predict their cash flow state, especially during times when the school is not full.
Licensing
Child Care Biz Help followed the Georgia Department of Early Care and Learning (DECAL) licensing guidelines to prepare Kids Point Learning Center for its first licensing visit in order to obtain the school's probationary child care license. The team was equipped with all the necessary operational processes, procedures, and plans including:
Business organization documents
Financial documents including budgets
Health and safety processes and emergency planning
Handbooks and policies
Inspection records and building occupancy
Space sketches
Staffing plan and staff records
Onboarding and training
A Brand that Fulfills a Higher Mission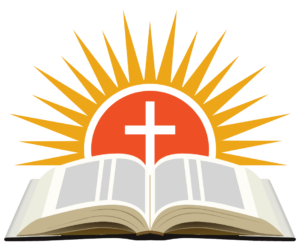 The team at Child Care Biz Help strategically navigated with the Turning Point Board to develop a brand that aligns with the mission of the church. The mission is to reach people and help them find their purpose and to do this with values of excellence, servant leadership, unity, ownership, and honor.
Kids Point Learning Center was crafted to reach our newest generation of leaders in the early childhood ages (infant, toddler, preschool). The vision is to not only be a premier, faith-based center. To be known for their investment in their team and dedication to shaping well-rounded, healthy little leaders to go influence their communities, families, schools, and their world.
Core values: Trustworthy, nurturing, inspiring, welcoming
The Experience - What Do They Want to Be Known For
Our invested team that is dedicated to shaping the next generation
Our impact on our students' lives as we help them build a strong foundation of faith upon which to build their life upon
Our influence in the community as we send little leaders to change their families, their schools, and their world.

Other words that represent the Kids Point Learning Center brand:
Modern
Young
Sincere
Energetic
Intellectual
Trendy
Playful
Premium
Artsy
From this, we developed the name along with several different logo styles.
Final logo and brand guide: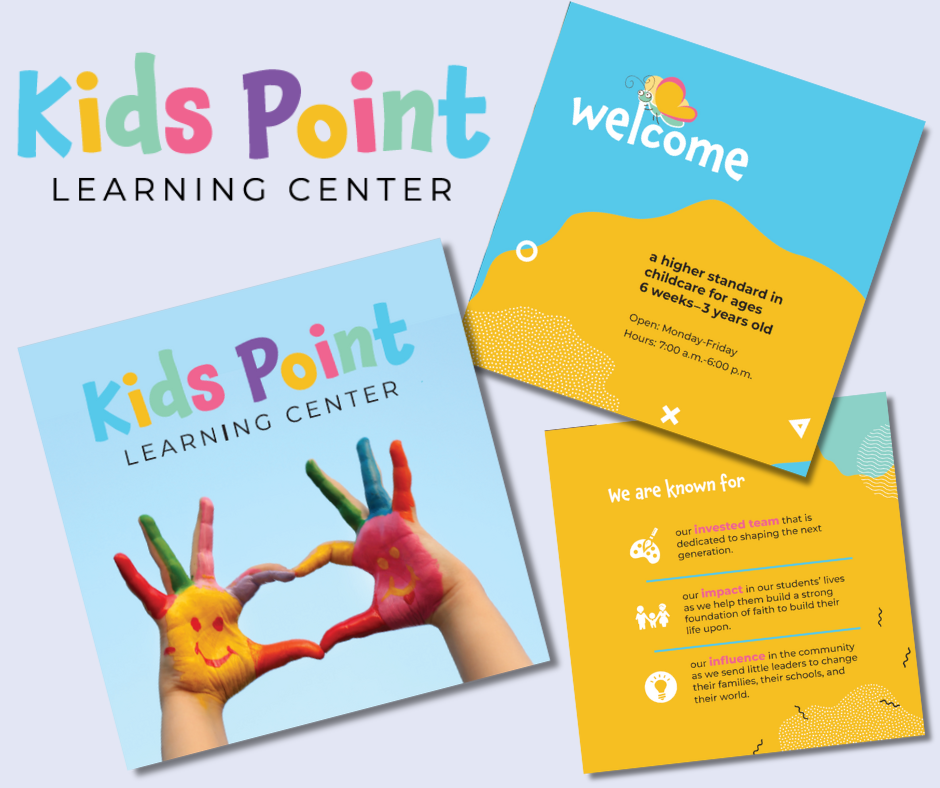 Program Development
The next step was to define the programming for Kids Point Learning Center. It was important to develop programs with the following philosophy: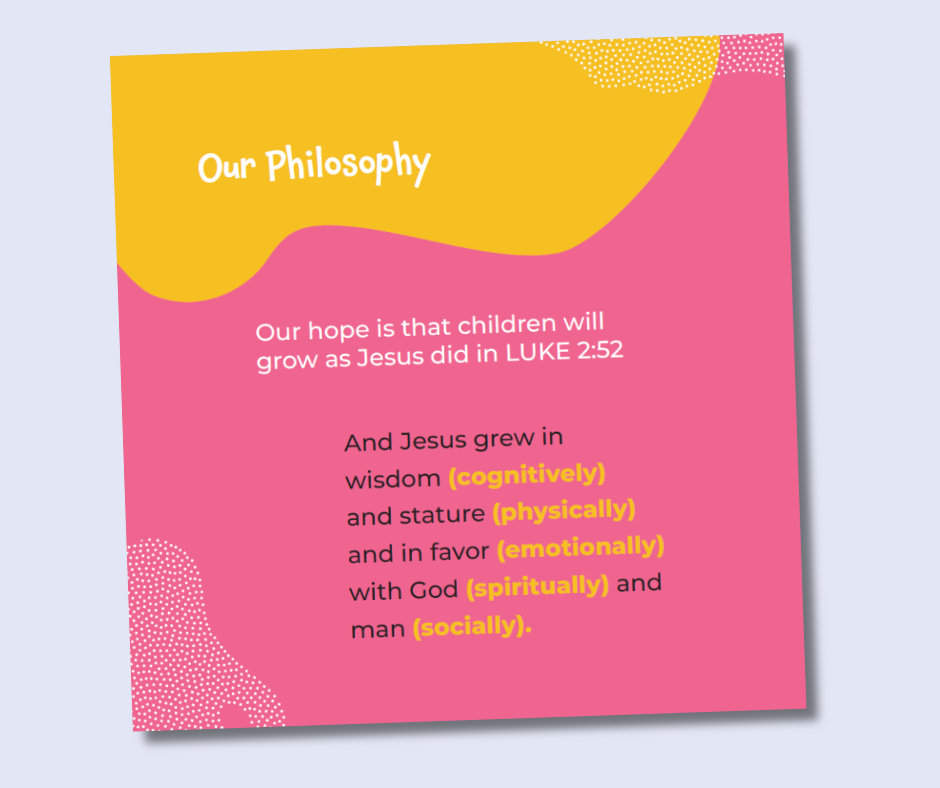 Equipment
The fun part of the process is getting ready to furnish the school and prepare the classrooms. Additionally, many systems have to be determined and implemented such as the lead management system, child care billing system, parent communication app, and cameras to name a few.
Child Care Biz Help provides recommendations and introductions to all vendors required to fully equip your new child care center.
Operations
To establish a solid foundation for your daycare the development of an operations manual along with various forms and checklists are a must. The Child Care Biz Help team created an internal operational manual for the team to follow including an administration playbook designed to help leadership run a healthy and profitable school.
All policies, forms, and checklists are owned by the school and completely editable so as they evolve and grow, they can change their own forms without fancy software programs.
Sales and Marketing
To ensure quick success in filling a school and hiring staff, Child Care Biz Help develops a well-rounded marketing strategy and helps the daycare center implement it. A six-month marketing plan is prepared and collateral pieces are designed such as program guides, banners, flyers, and social media posts.
The buzz begins with an "interest" meeting with the Turning Point church body as the Kids Point team reveals the expected open date of the new school. Open houses and hiring events are scheduled. The ribbon cutting becomes a reality in celebration of their new childcare center license!
A press release is distributed to major news sources celebrating the opening date of Kids Point Learning Center.
--Add some of the collateral pieces here such as an image of the marketing plan plus some of the flyers and social posts we created in the case study file.--
Recruitment
Hiring is critical to establishing the culture of a new school. Job descriptions were created, ads were written, and interview questions were finalized.
Kids Point already had a Center Director to run the school so it was onto hiring the teaching and support staff.
All new employees are taken through an onboarding training program designed to set them up for success in their classroom.
Leadership
Schools that have clear expectations and accountability are often the most successful. Kids Point established metrics of profitability and growth for the director. Performance coaching and one-on-one structures were also put in place.
All these are necessary for owners to keep a pulse on their school especially if they are not onsite employees.
A reporting structure was established to keep the church informed of the health of the school on a monthly basis.
Conclusion
The Kids Point Learning Center project took 8 months to complete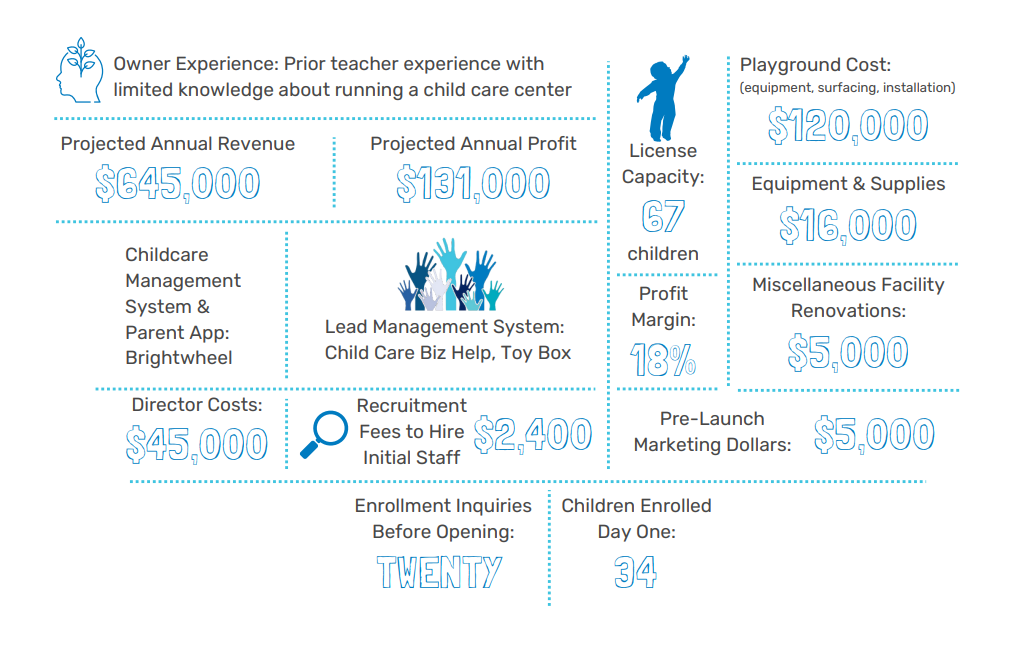 Franchise Model VS Consulting Model
The alternative to partnering with a company like Child Care Biz Help would be to franchise. Franchisees purchase the right to use a well-known brand name and business resources, and the brand helps them get started and remain successful.
Daycare franchise cost estimates vary widely by location, size, and whether you're leasing or buying a location. Most opportunities on the list above range from about $300,000 to $5 million, with an average cost of around $500,000. The initial franchise fee usually falls between $30,000 and $50,000, and many charge about a 5 percent royalty fee.
Child Care Biz Help provides most of the same services as a franchise with so many added benefits:
Low consulting investment fee
$0 ZERO royalties
A brand and reputation YOU own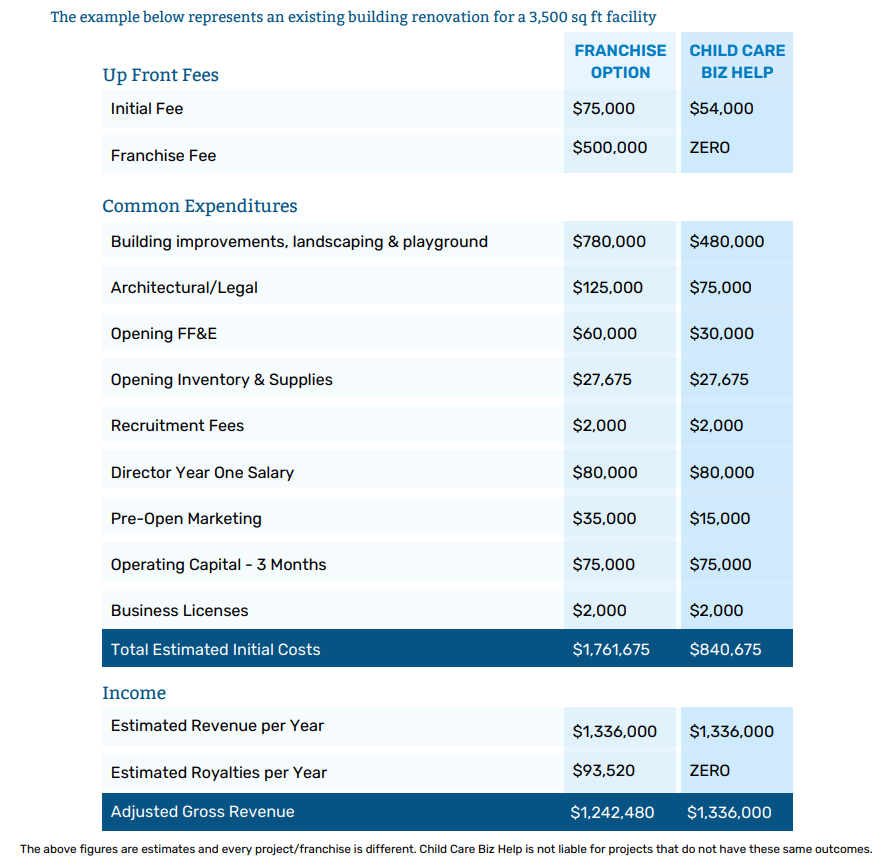 Project Facts
Owner Experience: Prior teacher experience with limited knowledge about running a childcare center
License Capacity: 67 children
Projected Annual Revenue: $645,000
Projected Annual Profit: $131,000
Profit Margin: 18%
Playground: $120,000 (equipment, surfacing, installation)
Equipment and Supplies: $16,000
Miscellaneous Facility Renovations: $5,000
Childcare Management System/Parent App: Brightwheel
Lead Management System: Child Care Biz Help, Toy Box
Director Costs: $45,000
Recruitment Fees to Hire Initial Staff: $2,400
Pre-Launch Marketing Dollars: $5,000
Enrollment Inquiries Before Open: Twenty
Children Enrolled Day One: 34
ABOUT CHILD CARE BIZ HELP

Child Care Biz Help is the child care industry's premier new start-up and consulting firm, offering a variety of customized, holistic solutions to help its partners run a more successful business. With a team composed entirely of individuals with childcare backgrounds, Child Care Biz Help has the experience and expertise to provide solutions and insights that cannot be found anywhere else in the childcare industry.
Interested in Joining the Growing Childcare Industry? We Can Help!
As always, please let us know your questions & thoughts in the comments box below, and subscribe to our blog!