Turning Children Into Heroes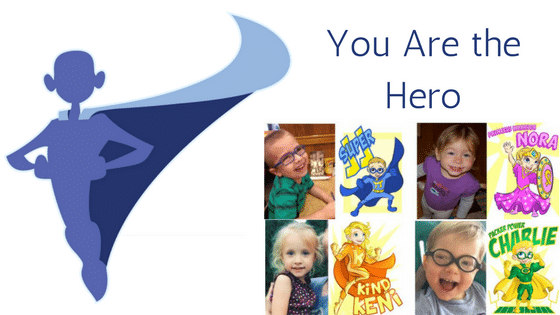 Helping Children with Chronic Illnesses Become Super Heroes
Working in an industry focused around children makes you very sensitive to the needs of young minds not only within your community, but worldwide. The other day I came across an article about a young man who selflessly helps children with chronic, life changing illnesses so I felt a strong desire to promote what he does. Please read about Bryan Dyer and his non-profit organization, "You Are the Hero," and consider sharing his information with families that have a child in need.
About Bryan Dyer
Bryan is a professional illustrator and a graduate of the Cleveland Institute of Art (2012). He has a life-long interest in superheroes and passion for creating exciting and engaging artwork for younger audiences. For his thesis project during my senior year in college he wrote and illustrated a comic book designed to educate children about Type 1 diabetes. It was while working on that project that he came to understand how the lives of millions of children are affected by chronic diseases and disorders. This is what ultimately inspired Bryan to create 'You Are the Hero'. His desire is for his art to bring even the smallest amount of joy and happiness to a child who may be going through a life altering or even life threatening illness.
What is You Are The Hero?
If you could be any superhero, who would you be? What powers would you have? What would your superhero name be? These are questions we all think about when we're young. There's something about the idea of being a superhero that speaks to all of us. This is especially the case when we're kids, but even more-so when we're sick. We feel weak, and in cases of severe illness, completely defeated.
Welcome to 'You Are the Hero' (or YATH). We are a charitable organization which was inspired by that attraction to super-heroics. Through YATH, children who are living with a chronic, life changing illnesses can envision themselves as the superhero they've always wanted to be. They can invent their own superhero name, have any powers or fantastic abilities they desire, and even design their own costume! Their vision of themselves as a superhero will be realized in the form of a fun and dynamic digital illustration which is provided free of charge.
​
YATH aims to help uplift and inspire sick children around the world.
Sign a child up
Visit You Are the Hero website to sign a child up.
http://www.youarethehero.org/
Become a sponsor
You Are the Hero® is a charitable project presented by CultureTrust Greater Philadelphia, a non-profit 501(c)(3) organization, and rely primarily on donations to stay in operation. If you would like to make a monetary contribution to You Are the Hero, however big or small, you can do so by clicking the  "donate" button.
Alternatively, if you would like to make a donation by check, please make it out to "You Are the Hero of CultureTrust Greater Philadelphia" and mail it to the following address:
ATTN: Jamaine Smith
CultureWorks Greater Philadelphia
Philadelphia Building
1315 Walnut St. Suite 320,
Philadelphia, PA 19107
Your donations will not only help keep You Are the Hero afloat, but are also tax deductible!
---
Thank you on behalf of Child Care Biz Help for sharing information about the You Are the Hero project.
Looking for assistance to help grow your child care center? Contact industry expert, Caroline Jens, in many areas including: help with expansion plans, enrollment, family and staff engagement, culture shift, marketing plans, recruitment, and understanding financial metrics to ensure maximized profits.