Hiring Childcare Superstars – Episode 3
HIRING CHILDCARE SUPERSTARS
We see it consistently: Being able to find employees to hire is a huge problem in the child care industry…the million-dollar question…how do we overcome the hiring crisis?
Child care isn't the only industry affected. We are hearing of this problem across multiple industries. So what can we do in the child care industry that others across multiple industries can do as well? 
Our solution: Attract and hire superstars. It sounds like a simple solution, but there is a bit more to it than that. There are multiple things you can do in your hiring and recruiting process to attract high-quality childcare employees to work for you.
We share real-life experiences, not just from our own centers we use to manage, but from working with our current childcare center clients as well. These ideas have helped many of our clients to combat the need for staff. These ideas can also easily translate to almost any industry.
RESOURCES-
1,001 Child Care Recruitment & Enrollment Strategies
---
ABOUT THE HOSTS-
Caroline Jens, Owner - Child Care Biz Help is an innovative leader in the child care industry. Her background of finance paired with being an Executive Director of a multi-location center gives her a unique ability to see all aspects of child care centers.
Justina Paterson, Chief Marketing Officer -Child Care Biz Help is an asset to the industry on many levels. Her background in design and marketing, paired with her time spent in a classroom and in leadership gives her a unique viewpoint when it comes to the industry.
Recent Episodes: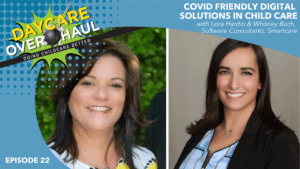 LISTEN This pandemic has allowed child care owners, directors, teachers and staff to shine. Child care is often chaotic, busy,…
KEEP READING