Inspect what you Expect – Episode 21
Setting expectations and ensuring those expectations are being followed through with is crucial to running a successful child care center. Our guest, Mandy Doy, COO at Daycare Team, joined us today about how she sets expectations for her 12 schools and 200+ teachers.
Mandy talks about setting goals, communicating consistent reminders in order to help her staff achieve those goals and letting them know 'what is in it for them.' Not only is it important to set clear expectations and encourage follow through, but it is also important to give grace and allow them to understand why sometimes goals are not met.
Mandy also talked about the importance of keeping your standards the same and knowing what your Directors and other staff can successfully achieve, but not too easy that it isn't a bit of a challenge.
Mandy also shared this quote: "Always bring others up to your standards, don't settle for less than what you know you can accomplish."
Listen to all that and more in today's podcast!
RESOURCES:
The Nook Childcare & Preschool
Wise Owl Daycare
Smart from the Start
Tiny Tot Daycare
Bloom Academy
Bottled Up & Stuff
LeaderSHIPPED Subscription Box
2021 Director's Deskpad Calendar
---
ABOUT THE GUEST:
Mandy Doy is the Chief Operating Officer at Daycare Team. In her role as COO she oversees operations for 12 schools, both in Chicago and Florida. Mandy has been in the Early Childhood Education industry for 10 years. Prior to entering the industry, she was in retail.
When Mandy isn't busy overseeing operations of her 12 schools, she and her husband have an amazing blended family of 5 children, 3 fur babies, and she also runs a small business called Bottled Up & Stuff focusing on creating and personalizing gifts ranging from tumblers, t-shirts, customized smart watch bands and more.
---
ABOUT THE HOSTS:
Caroline Jens, Owner, Child Care Biz Help is an innovative leader in the child care industry. Her background of finance paired with being an Executive Director of a multi-location center gives her a unique ability to see all aspects of child care centers.
Justina Paterson, Chief Marketing Officer, Child Care Biz Help is an asset to the industry on many levels. Her background in design and marketing, paired with her time spent in a classroom and in leadership gives her a unique viewpoint when it comes to the industry.
Recent Episodes: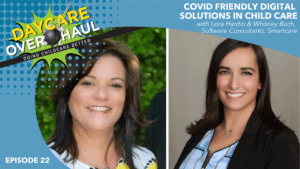 LISTEN RESOURCES: ABOUT THE GUESTS: ABOUT THE HOSTS: Table of Contents LISTEN RESOURCES: ABOUT THE GUESTS: ABOUT THE HOSTS: LISTEN…
KEEP READING