COVID Friendly Digital Solutions in Child Care – Episode 22
This pandemic has allowed child care owners, directors, teachers and staff to shine. Child care is often chaotic, busy, always changing and sometimes full of germs..which is exactly how the past 8 months have been. Child care centers have to not only provide some normalcy for the children when it is so important, but also have adapted to the ongoing changes thrown their way.
Our friends at Smartcare, are exactly the same. We have partnered with Smartcare for some time and are always impressed by their passion for the industry and their amazing customer service, not to mention their extensive cloud-based program that helps centers all over run smoothly. And like their child care clients, they have also been forced to adapt and change as the months have progressed. They have created even more digital solutions to adapt to the changing pandemic best practices. Listen in as Lora and Whitney share some solutions Smartcare has implemented to make their platform even more flexible and learn how Smartcare and the industry has tried to be proactive instead of reactive.
RESOURCES:
Smartcare - use CCBH for special pricing!
LeaderSHIPPED Subscription Box
---
ABOUT THE GUESTS:
Lora Hardin is a Senior Software Consultant at Smartcare which focuses on bringing cloud-based business solutions to the early learning community. Lora draws on her deep background in public and private education to provide relevant solutions for childcare business owners and administrators. She has a Bachelor's Degree in Education from the University of Louisville. 
Whitney Bach, Software Consultant has extensive knowledge on the Smartcare platform having been a training specialist for years. Her expertise of Smartcare's business and communication feature set helps Whitney tackle the most complex of childcare business needs. Her deep background, coupled with her genuine approach, allows her to connect quickly with potential Smartcare clients who are looking for a digital solution to help run their schools and centers.
---
ABOUT THE HOSTS:
Caroline Jens, Owner, Child Care Biz Help is an innovative leader in the child care industry. Her background of finance paired with being an Executive Director of a multi-location center gives her a unique ability to see all aspects of child care centers.
Justina Paterson, Chief Marketing Officer, Child Care Biz Help is an asset to the industry on many levels. Her background in design and marketing, paired with her time spent in a classroom and in leadership gives her a unique viewpoint when it comes to the industry.
Recent Episodes: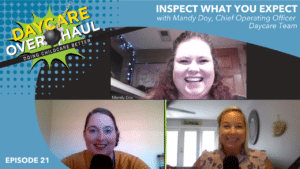 LISTEN RESOURCES: ABOUT THE GUEST: ABOUT THE HOSTS: Table of Contents LISTEN RESOURCES: ABOUT THE GUEST: ABOUT THE HOSTS: LISTEN…
KEEP READING