There Should be an "I" in Team! – Episode 18
As they say, "there is no "I" in team, but our guest today would argue…but should there be?
Ruth Graczkowski a self-proclaimed professional encourager joins Daycare Overhaul today to talk about that exact thing - Should there be an 'I' in team, because there certainly is a 'm' & 'e'. When you are a leader of any organization, it must start with you. Strong team players come from living authentically as individuals. The I and the team are interconnected and one cannot exceed without the other.
We walked away with so many great nuggets of information and hope you do too! Be sure to grab a pen and paper for this one!
RESOURCES:
---
ABOUT THE GUEST:
Ruth Graczkowski has spent her career focusing on how to help others identify, examine, create, and most importantly execute what is next for them and their organizations. Her work in the insurance and mortgage banking industries laid a foundation of business acumen, sales professionalism, and creative problem solving, used in the work she does today. Ruth's purpose, simply stated, is to be of service to others. It is the straightforward approach, honest conversation and unwavering commitment to her clients that has brought change to hundreds of organizations through the years. The impact is in revenue, profitability, engagement & even the culture. Ruth understands what makes people tick and how to help them look to the future with renewed passion. As a Professional Encourager for Tri-S Consulting, for over 20 years, she encourages others to challenge themselves, in pursuit of that bigger purpose.
---
ABOUT THE HOSTS:
Caroline Jens, Owner, Child Care Biz Help is an innovative leader in the child care industry. Her background of finance paired with being an Executive Director of a multi-location center gives her a unique ability to see all aspects of child care centers.
Justina Paterson, Chief Marketing Officer, Child Care Biz Help is an asset to the industry on many levels. Her background in design and marketing, paired with her time spent in a classroom and in leadership gives her a unique viewpoint when it comes to the industry.
Recent Episodes: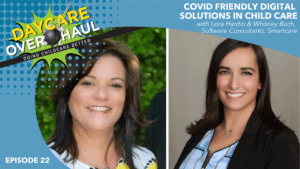 LISTEN RESOURCES: ABOUT THE GUESTS: ABOUT THE HOSTS: Table of Contents LISTEN RESOURCES: ABOUT THE GUESTS: ABOUT THE HOSTS: LISTEN…
KEEP READING