Child Care Advocacy & Why It Is Important – Episode 19
Advocating for your child care center is very critical, even more so now since the pandemic. Our guest today is one of the biggest advocates we have met and today, she talks about the importance of being an advocate for your center when it comes to make sure those in our legislature can fight for the money that it takes to be able to successfully run your center.
Cindy Lehnhoff, Director at NCCA talks about the importance of being an advocate for child care as well as why and how you can make a difference! She talks about the importance of being informed of what is happening, before it happens on a federal level as it pertains to increasing regulations without budgeting enough funds to be able to act on them. 
RESOURCES:
NCCA
Child Care Aware of America
First Focus
Children's Budget Coalition
National Women's Law Center - Child Care & Early Learning
---
ABOUT THE GUEST:
Cindy has worked in Early Care and Education since 1980. She has served in several capacities including Preschool Teacher, Director, District Manager, and Vice President for one of the nation's largest child care providers.  
The career accomplishment she is most proud of is supporting Directors in over 100 centers in achieving national accreditation by the National Early Childhood Accreditation Program.  This included supporting Teachers and Directors that had worked in the industry for many years to achieve educational and certification requirements to satisfy accreditation and state QRIS requirements.
She has served on the following Boards: Oklahoma child care association, the The Governor's Child Care Advisory Committee, The National Child Care Association Board, The National Early Childhood Program Accreditation (NECPA), and she has been serving as the Director of the NCCA since August 2019. 
---
ABOUT THE HOSTS:
Caroline Jens, Owner, Child Care Biz Help is an innovative leader in the child care industry. Her background of finance paired with being an Executive Director of a multi-location center gives her a unique ability to see all aspects of child care centers.
Justina Paterson, Chief Marketing Officer, Child Care Biz Help is an asset to the industry on many levels. Her background in design and marketing, paired with her time spent in a classroom and in leadership gives her a unique viewpoint when it comes to the industry.
Recent Episodes: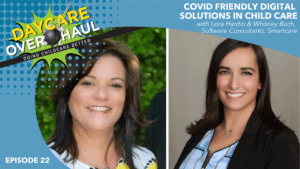 LISTEN RESOURCES: ABOUT THE GUESTS: ABOUT THE HOSTS: Table of Contents LISTEN RESOURCES: ABOUT THE GUESTS: ABOUT THE HOSTS: LISTEN…
KEEP READING