Child Care Director: Selection, Onboarding, and Training
10 things to know about the most important position at a childcare center.
We often talk about childcare teachers and their important role shaping the minds of young children. We invest significant time recruiting teachers, coaching them, and ensuring they have all the resources they need to do their jobs. Yes, this is a MUST in your childcare center. However, I want to challenge you not to forget the person who sits in the center director's seat.
If you were to ask my opinion about the most important role for the overall success of a child care center, I would definitely have to say – the director. This position has the responsibility of carrying out the entire mission of the daycare.
If you ask a center director about their roles and responsibilities, you will hear things that sound like many different job descriptions:
Manager/Supervisor
Coach
Maid
Counselor
Plumber/Janitor
Bus Driver/ Chauffeur
Doctor
Teacher
Mediator
Cook
Nurse
IT Person
Marketing Manager
Yes, the center director wears many hats.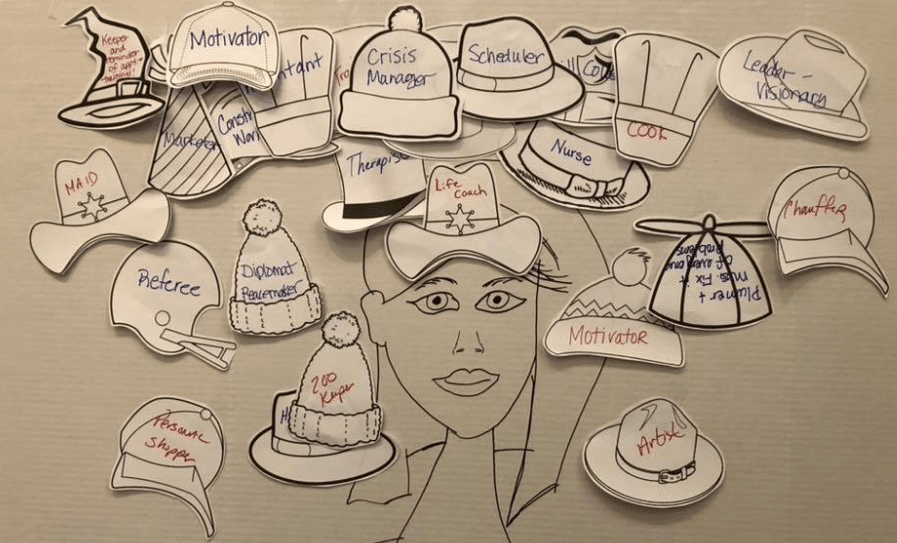 How can we ensure not only that the right person fills this position, but also that they are equipped for sustainable success? I have determined ten things an owner or executive director needs to know about a center director (and later in this post, I'll discuss how you as a prospective center director can best meet the requirements):
1. Not all directors are equally awesome
2. Time allocation is not that easy
3. Leaders love to feel empowered to lead
4. Directors drive profits, but must learn how
5. Even leaders crave motivation and inspiration
6. Even leaders want to be coached and developed
7. Accountability is a sensitive issue
8. Make a switch if it isn't working
9. There's a right and a wrong way to hire
10. Onboarding a new director involves both empowerment and coaching
Let's dive into these…
1. Not All Directors Are Equally Awesome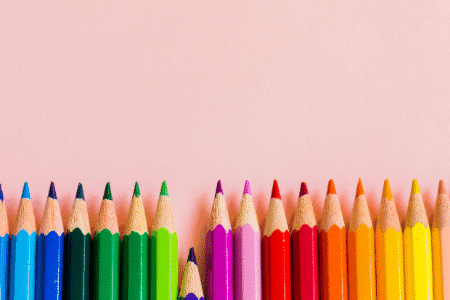 It's important to know what qualities and skills a superstar center director should have. Some excel in more areas than others. Look for these qualities when you're searching for a director, and consider ways to foster and develop them throughout the director's time with your center. The depth of their skills may increase depending on how much you empower them (more on that later).
Energy: Must have oomph! The ideal center director remains enthusiastic and that's evident in how they don't slow down. They have the ability to stay pumped up and doesn't exhaust easily even with a large workload. Because of this energy, they're able to give staff the attention they need.
Positivity: A superstar director is able to handle the obstacles of childcare with confidence and a smile. Their optimistic demeanor is contagious among staff and families.
Communication: Good directors are proactive and intentional with relationships, and respectful with words.
Passion to mentor: A superstar director will have a burning need to develop other superstars, not only in early education but among co-workers too.
Conflict resolution: A center director needs a high emotional IQ to hold constructive conversations even if difficult situations arise.
Innovator: A center is successful when its director proves to be a pace-setter and go-getter! Their motto should be "Make today better than yesterday."
When hiring a center director, you can look for these qualities by asking very specific questions. For instance, invite candidates to tell you about how they resolved a disagreement or brought innovation to their workplace in the past.
If your existing center director might be stronger in one or more of these qualities, determine ways to help them grow. Be very specific, with an action plan so your director understands the exact road map to follow and what the end result is expected to be.
2. Time Allocation Is Not That Easy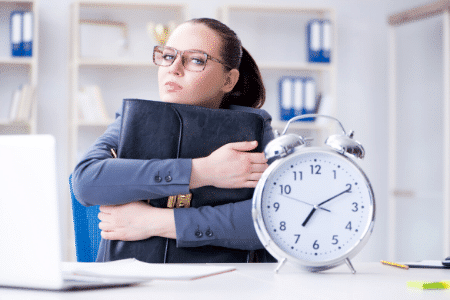 Many directors do not properly allocate their time, leaving them unsure how to regain control of all they are responsible for. How a center director spends their hours has a direct effect on the success of your childcare center. If a center director sits at their desk all day, they will likely not be inspiring the staff, engaging with the families, or helping to build your center brand in the community.
Here is a sample chart of how a "typical" director should allocate their day. Keep in mind, this time allocation might look slightly different depending on the needs of the center. If you are just opening, the center director will likely spend more time on marketing & business development than on office management.
Whether your mix leans more heavily on marketing or on vision/culture, it is important that the center director is intentional with their day. They should spend less time on small task work and more time on big-picture culture setting, brand development, and engagement.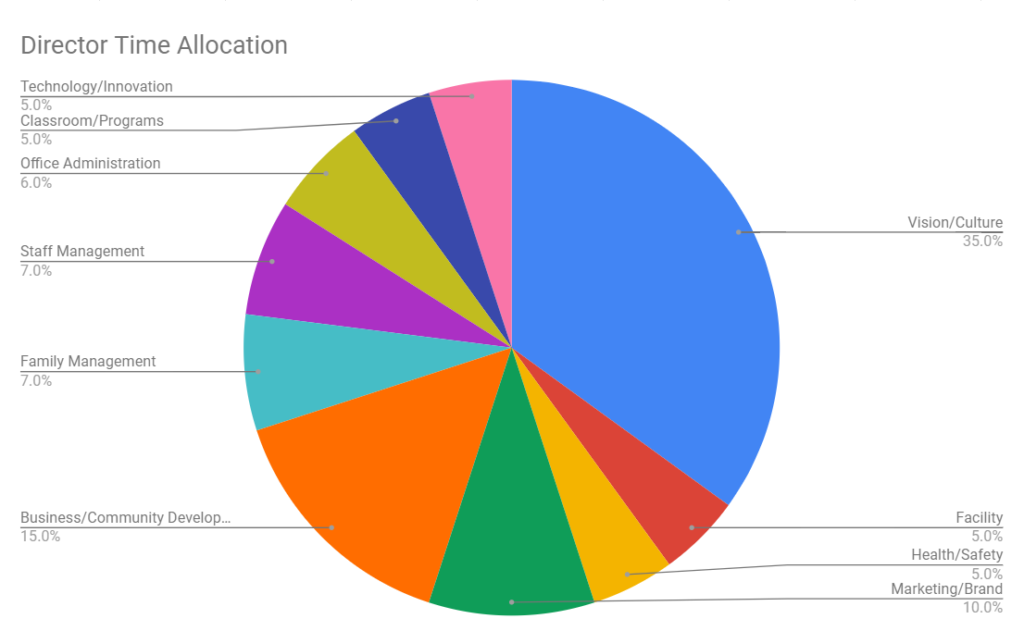 3. Leaders Love To Be Empowered To Lead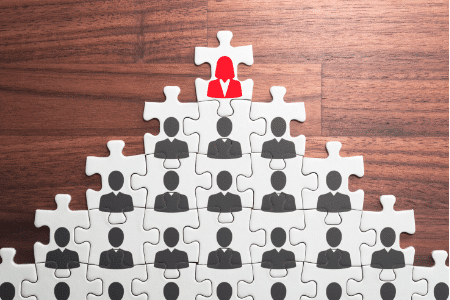 Leaders like to make decisions on their own without always asking for approval. When you empower your center director, you give them the authority to be creative, to innovate, and ultimately, to have an entrepreneurial mindset. This mindset and authority create action! An empowered center director is educated about the needs of the center and knows when to act based on those needs.
Find opportunities for empowerment. Here are some examples:
Appreciation budget: Encourage your center director to show how they appreciate their staff by providing an employee appreciation budget that doesn't have to be approved every month. Even $100 a month will allow the director to buy thank-you cards, treats, pizza, and more for their team.
Exceptions: Provide the director with guidelines so they have a clear understanding of when and how to grant special tuition deals. For example, they might offer specials to potential enrollments when the prospect fits an opening in your center. If you are concerned they might give away too many deals, ask for a monthly report of their tuition "exceptions."
Staff raises:—okay, don't panic! Ask your director to provide a wage recommendation for all pay increases. Listen to their reasoning behind why each person should make the wage they suggest. Give your final approval, of course.
Charity: Allow your center director to help determine what community causes and volunteer impact they want to support. Let their passion project rise to the top to keep them encouraged and motivated.
4. Directors Drive Profits, But Must Learn How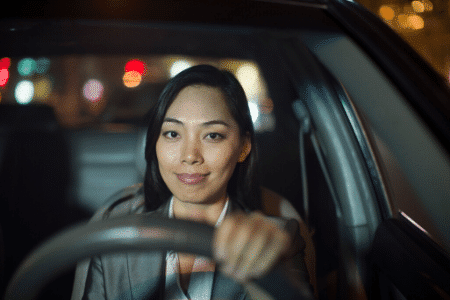 The center director is the driver of profits for your childcare center. Given that, why don't we train our directors on what makes a childcare center successful?
Here is some guidance to share with your director on how to make P.R.O.F.I.T.S.:
Passion: Leaders and employees who are passionate about what they do will do their best on a daily basis. Tap into the passions of your team.
Recruitment: Staff can make or break culture. Know how to recruit, who to recruit, and how to create raving fans that attract superstars.
One Vision: Unified teams are stronger than divided ones. Create a culture of collaboration and teamwork. It is equally important to have a clear blueprint of what you want your company to be and how each employee contributes to that.
Financials: Understanding your numbers, metrics, expenses, and targets bring clarity.
Innovation: Continuous improvement in everything we do creates a thriving center! Learn how to tap into the creativity of your staff and encourage open-mindedness about change.
Training/Retention: When we are constantly growing, both individually and as a team, we not only improve our skills and what we offer, we also keep engaged.
Sales/Marketing: Focus on keeping a consistent brand message, always, to every audience you speak to staff, families, vendors, community.
The right mix of all these components will create more profits at your childcare center. With your help, your director will learn how to act in alignment with this success formula, and profits will come naturally!
5. Even Leaders Crave Motivation And Inspiration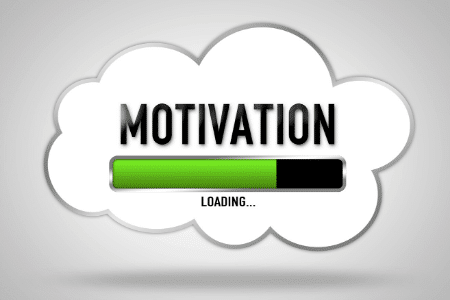 Often, we expect our leaders to build up and train others, and we forget they need development too. Even though directors like to be empowered to run their centers, they also look for a mentor or coach to help them develop. Knowing how a director needs and wants to be developed can ensure present and future success.
This is a tough position, and even when you may a positive, high-energy director, they'll be grateful for motivation and inspiration. Get to know what motivates your director. Some are motivated by incentives, alignment with their bigger purpose, recognition, or future opportunities. Whatever their "work love language," discover ways to speak it.
Inspiration, meanwhile, gets ignited from the passion and energy of their supervisors. There is nothing more inspiring than having a manager who is truly a mentor and uses every opportunity to help their staff grow. When you have both a passion for what you do and a passion to develop people, you will be able to inspire your hard-working center directors even when they feel overwhelmed and burnt out.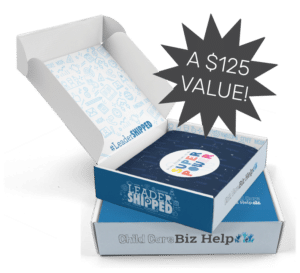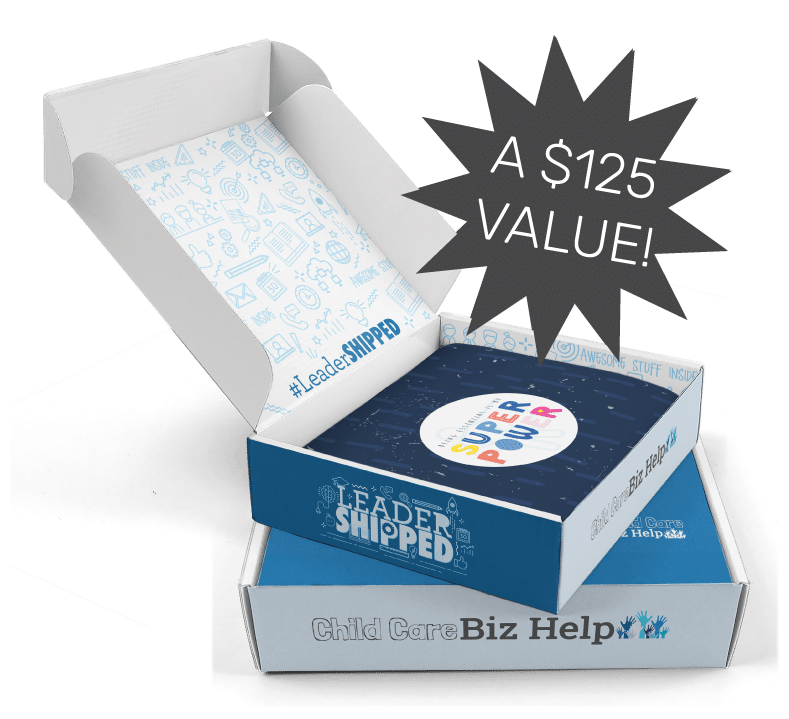 Send them something fun yet practical! 
Something new to try is a cool quarterly childcare director subscription box filled with things like:
Fun custom products like key chains, straw decorations, t-shirts, Mocktail kits
so much more
6. Even Leaders Want To Be Coached And Developed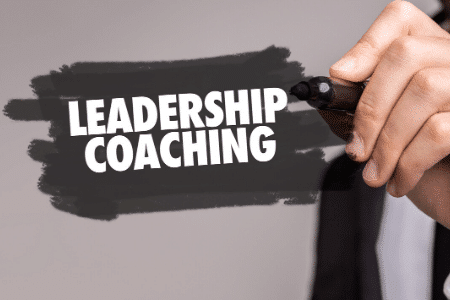 I remember a supervisor who took it upon herself to mentor and develop me personally. It is because of her that I went above and beyond. Her willingness to invest in me helped me become the business person that I am today.
When looking for opportunities to coach and develop your director, consider the following:
Gaps in their skillset that will help them be a better leader and communicator.
Personal areas they can use mentoring in.
Future growth goals and skills to be developed so they can achieve those.
Identifying others they can mentor—great satisfaction and growth comes from mentoring others.
Development of strengths and talents so they can grow in areas they are already strong in.
Dreams to obtain to motivate, inspire, and encourage them.
7. Accountability Is A Sensitive Issue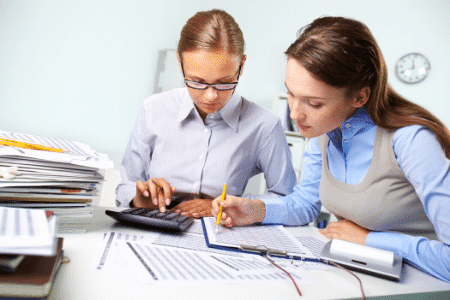 Directors feel like their power is diminished when the owner or executive director keeps a finger too close to the pulse of their activities. I have even seen directors lose confidence because they feel their supervisors won't let them make decisions.
All employees, however, should be held accountable no matter their level. For directors who feel intimidated by oversight, educate them on why accountability is helpful.
Not only is this necessary to keep a measure of the business as an owner or executive director, but it is also valuable for the director to have another set of eyes on various parts of their responsibilities. This catches issues before they spiral out of control and ensures that best practices are identified.
8. Make A Switch If It Isn't Working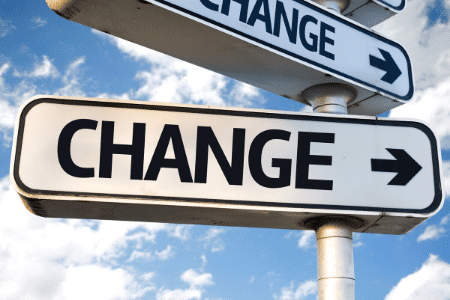 There is a time when a decision needs to be made for a change in this valuable position.
When we think of hiring a new director, some voices in our minds immediately speak up:
"I don't have time to hire and train a new director!"
"What will my families think?"
"Will a new person be able to rally the team behind them?"
These questions often prevent us from making the necessary change in this leadership position. We know deep down that the longer the wrong person stays, the more our culture will continue to decline, the less likely we will become innovative, and the harder and harder it will become to make a change.
If you suspect for a moment that the person in the director's chair is any of the following, you may want to consider making a change:
Seems no longer passionate about the center.
Has stopped building relationships with the staff.
Is often confrontational when you suggest things.
Does not show willingness to grow or learn.
Doesn't have the ability to be open-minded about change, innovation, or progress.
Feeds into negativity.
The first steps to making this change are not easy, but the end result will make it all worthwhile.
9. There's A Right And A Wrong Way To Hire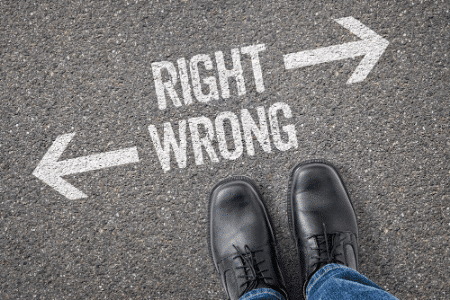 When the time comes to replace a center director or fill a new spot, there are things we should consider. Since you're filling such a crucial position, resist the urge to hurry through the hiring process or make things "easy" by relying on your emotions to make the decision for you.
Only settle for quality candidates!
Hire only directors who have the superstar qualities described in lesson #1.
Don't hire out of haste – take your time on this most important decision.
If we hire people just because we know or like them, not because of their fit with the position, we will likely be replacing them in the near future.
10. Onboarding A New Director Involves Both Empowerment And Coaching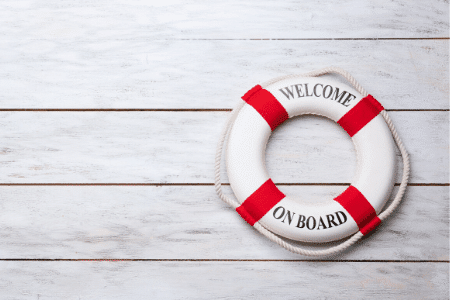 In particular, be sure to provide your new director with what you've learned and your established best practices about:
How to engage with families and staff.
Financials and expectations on goals and metrics.
Impact in the community.
Marketing and business development.
Continuous improvement in programs, self, staff, brand.
Vision and culture.
Achieving raving fans!
At the same time, consider ways to empower them as they learn. Reassure them about their ability to make decisions and have their back as they try out their first few small experiments.
Throughout the onboarding process, set intentional check-ins where you can have moments of reflective coaching. This time will allow you and the director to determine what has or has not been working so far in their training process.
Take reflections and consider how the program should be adjusted to ensure success over the 30, 60, and 90-day onboarding process.
Need help with your Director selection, onboarding or training?
Let Child Care Biz Help's team meet your need:
1. Not enough time to recruit your perfect director? Let our team be your dedicated recruiter.
2. Preparing to start your new director off on the right foot? Purchase our Director Onboarding Program (includes a teacher onboarding program too!)
3. Looking to help your center director LEVEL UP – Ask us about our Another You Director Level Up program.