Be Innovative Through Adversity – Episode 14
Welcome back to Daycare Overhaul - Doing Childcare Better!
Caroline and Justina are so excited to be back for Season 2 of Daycare Overhaul! Listen as they discuss what they have been up to the past few months along with exciting plans for this season of Daycare Overhaul. Be sure to listen carefully and see if you recognize a train, email, alarm and thunder in the background (talk about having to pivot)!
Take notes as they share ways they have seen the industry and clients pivot through this adversity.
As we list potential ways a child care center can pivot, it is important to remember to be open minded, try a variety of things, find what works! Just because it doesn't work right away, does not mean you cannot gain some traction with a bit of effort. 
Check out our list of potential ways you can pivot below:
Offer care to school agers who are doing virtual learning and offer help

Consider offering a virtual 4k option

Get creative with offering virtual and or hands free tours

Work with local business and offer your services to their staff

Be flexible with scheduling new or current families

Change how you communicate with families since most are not allowed in the building

Alter how you show appreciation to your staff

Think of creative ways to gather your staff and families to provide safe, social interaction
Taking a look at the above options could not only provide you ways in which you can change how you currently do business, it could also alter the way you do business going forward, once the public health crisis diminishes.
RESOURCES:
Make images using Canva
Order Swag from Safari Brand Marketing
---
ABOUT THE HOSTS:
Caroline Jens, Owner, Child Care Biz Help is an innovative leader in the child care industry. Her background of finance paired with being an Executive Director of a multi-location center gives her a unique ability to see all aspects of child care centers.
Justina Paterson, Chief Marketing Officer, Child Care Biz Help is an asset to the industry on many levels. Her background in design and marketing, paired with her time spent in a classroom and in leadership gives her a unique viewpoint when it comes to the industry.
Recent Episodes: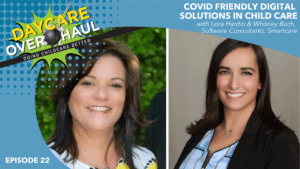 LISTEN RESOURCES: ABOUT THE GUESTS: ABOUT THE HOSTS: Table of Contents LISTEN RESOURCES: ABOUT THE GUESTS: ABOUT THE HOSTS: LISTEN…
KEEP READING