Season 1 of Daycare Overhaul is in the books! We had such an amazing first season talking about how to Do Childcare Better. We talked about mental wellness, hiring, branding, marketing basics and more.
We have been working tirelessly to line up amazing guests for Season 2 and we cannot wait to share that with you all soon.
In the meantime, listen (and watch) some of the great bloopers from this season!
---
ABOUT THE HOSTS:
Caroline Jens, Owner, Child Care Biz Help is an innovative leader in the child care industry. Her background of finance paired with being an Executive Director of a multi-location center gives her a unique ability to see all aspects of child care centers.
Justina Paterson, Chief Marketing Officer, Child Care Biz Help is an asset to the industry on many levels. Her background in design and marketing, paired with her time spent in a classroom and in leadership gives her a unique viewpoint when it comes to the industry.
Recent Episodes: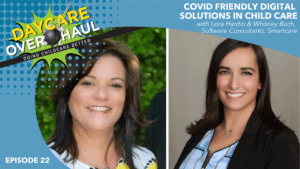 LISTEN RESOURCES: ABOUT THE GUESTS: ABOUT THE HOSTS: Table of Contents LISTEN RESOURCES: ABOUT THE GUESTS: ABOUT THE HOSTS: LISTEN…
KEEP READING