Branding Your Child Care Center – Episode 12
What comes to mind when you think of the word 'brand?' 
Most people might think...logo, right?
Well, we are here to change your mind. Think of the brand of your child care center as a living, breathing person. This 'person' has a personality, a way they look, a way they talk, and even things they do not do. When you change your thinking from There are plenty of ways to build trust with the families attending your center, as well as presenting yourself as a professional business, even across multiple centers. Branding is one of the most common ways that a company creates an image for themselves that they choose to share with the world.
Simple things like your paint choices, signage and marketing materials can legitimize your center to curious parents as well as your current families! It will also strengthen your brand and help maintain the integrity of said braind. Justina, our local branding expert, is going to sit down with you and go step by step through the branding process!
Daycare Overhaul recommends you sit down, take notes, and try and examine your center at a very basic level, there are some tips given about almost every detail in a center, down to the small parts of what makes a good logo - good! Is your website easy to navigate and provide a good idea of the kind of culture your center wants to provide? Even something as simple as the fonts you use in your marketing materials and website could be a big determining factor.
There is a lot of information given here, but getting information like this from an expert in the field, and it's free? It's a chance to inject some lifeblood into the look of your center, or to help you iron out those few small issues that have plagued you for months. Join Caroline and Justina through their branding journey and hopefully they'll accompany you through yours!
RESOURCES:
---
ABOUT THE HOSTS:
Caroline Jens, Owner, Child Care Biz Help is an innovative leader in the child care industry. Her background of finance paired with being an Executive Director of a multi-location center gives her a unique ability to see all aspects of child care centers.
Justina Paterson, Chief Marketing Officer, Child Care Biz Help is an asset to the industry on many levels. Her background in design and marketing, paired with her time spent in a classroom and in leadership gives her a unique viewpoint when it comes to the industry.
Recent Episodes: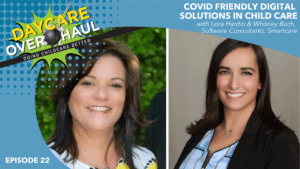 LISTEN RESOURCES: ABOUT THE GUESTS: ABOUT THE HOSTS: Table of Contents LISTEN RESOURCES: ABOUT THE GUESTS: ABOUT THE HOSTS: LISTEN…
KEEP READING