Child Care Center First Impressions – Episode 5
When is the last time you took an objective look at your online presence, the outside of your building and how your childcare center looks when you first enter? If you haven't done this recently, now might be the time. 
How your center looks, feels and even smells when potential families or even staff walk in the door, could be the determining factor on whether or not a family or teacher enrolls or accepts a job. Make the most of that first impression in person and online. 
The view your parents have of your center is easily influenced by many factors, but that first impression, that 'front door' experience, is your single greatest chance to invoke a pleasant and positive emotion. 
Caroline and Justina want to walk you through the best processes that will solidify your touring structure and first impressions overall. It can be hard to take yourself out of an owner or director's shoes and put yourself in the mindset of a parent when it comes to viewing your childcare center, but it is crucial to do so, if you want to take an unbiased look at your center.
When you are at the childcare center, day in and day out, it becomes easy to let small things slip by. Our hosts have the experience not only within their own child care center, but helping other centers across the country perfect this first impression experience. 
We recommend you listen to this one with a pen and paper. Take some notes and take some time afterwards to dig into the process of on-boarding new parents at your center, and talk to the employees who lead it as well. In the meantime, check our our quick tips below:
Tours should be thorough and led by employees who exude love for your center

Knowing the first names of the touring parents or potential teacher will make a lasting impact

If children attend, or if any children come up to you during the tour, be sure bend and speak to the children at their level
RESOURCES-
1,001 Child Care Recruitment & Enrollment Strategies
---
ABOUT THE HOSTS-
Caroline Jens, Owner - Child Care Biz Help is an innovative leader in the child care industry. Her background of finance paired with being an Executive Director of a multi-location center gives her a unique ability to see all aspects of child care centers.
Justina Paterson, Chief Marketing Officer -Child Care Biz Help is an asset to the industry on many levels. Her background in design and marketing, paired with her time spent in a classroom and in leadership gives her a unique viewpoint when it comes to the industry.
Recent Episodes: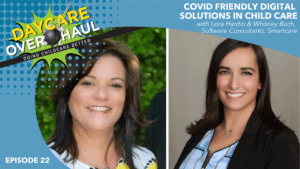 LISTEN This pandemic has allowed child care owners, directors, teachers and staff to shine. Child care is often chaotic, busy,…
KEEP READING