Child Care Culture Affects Retention – Episode 4
Are you short staffed at your child care center and are your employees feeling the stress because of it? Are your employees feeling a lack of support or resources but aren't telling you? Are your employees stuck in a rut and stewing in negativity and you don't know how to change it?
Taking the time to reflect on the culture of your child care center can often be overwhelming, but is completely necessary if you want to impact change. How positive or negative your culture is, directly impacts your retention.
Listen today as Caroline and Justina tackle these hard topics with an air of calmness and understanding. Sit down as two childcare experts lead you through these deep waters and help form a clear plan towards a solution.
Maybe it's something as simple as a survey, something that lets your employees know that 'hey, we want to hear from you.' Simple solutions like this sometimes provide the biggest impact.
Does your center have good career pathing? Do your employees feel like there is a future within your center for them, or do they feel stagnant?
Maybe it's as simple as being honest with yourself. Caroline is very transparent about self reflection and how that helped her, and encourages the listener to do the same. Tune in for the full story about retention, and the culture that surrounds it!
RESOURCES-
1,001 Child Care Recruitment & Enrollment Strategies
---
ABOUT THE HOSTS-
Caroline Jens, Owner - Child Care Biz Help is an innovative leader in the child care industry. Her background of finance paired with being an Executive Director of a multi-location center gives her a unique ability to see all aspects of child care centers.
Justina Paterson, Chief Marketing Officer -Child Care Biz Help is an asset to the industry on many levels. Her background in design and marketing, paired with her time spent in a classroom and in leadership gives her a unique viewpoint when it comes to the industry.
Recent Episodes: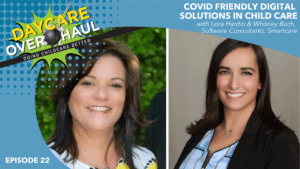 LISTEN This pandemic has allowed child care owners, directors, teachers and staff to shine. Child care is often chaotic, busy,…
KEEP READING