Childcare Experts Share Four Unique Perspectives – Episode 8
We all know, every person experiences life differently. Their perspectives are unique to the experiences they have. Those working in the child care industry are no different. Whether they are owners, directors, teachers, or support staff, they all have a unique perspective on the industry. 
Listen in as Caroline and Justina are joined by Maddie and Nick, both from Child Care Biz Help. Each person has a very distinct and very different perspective when it comes to child care and working at a child care center. Together they answer 10 very different, but very important questions in the industry which are listed below-
10 QUESTIONS:
Some of us have children some older and some brand new and some of us will be considering adding to our families in the future - What would be important to you in a child care center?

What is that challenge that you had working in the industry that maybe you were afraid to take to your boss?

What is your child care deal breaker? If you went to a center and loved everything, but saw or experienced one thing that would prevent you from enrolling..what would it be?

Online presence - what do you look for?

Would reading a bad review, or hearing something negative about a center, deter you touring or enrolling at a center & why?

Best piece of advice you got as a teacher for a classroom?

How do you navigate roles with a co-teacher in a classroom?

Resources in the classroom, Did you know you had them? Did you feel you couldn't ask for them?

What was/would be your breaking point when it comes to stress and mental wellness & how do you overcome it?

 Is money your deciding factor on where you work?
Want our panel of experts to answer your question? Email Us!
ABOUT THE GUESTS:
Maddie Mehnert, Digital Content Producer, is a recent graduate with a background in Secondary Education. With her knowledge of educating children and her video editing abilities she can provide child care centers a fresh alternative viewpoint on how to promote and sustain their centers. 
Nick Minogue, Director of Innovation & Technology, has experience not only in the computer field, but also working within the classroom in a variety of age groups over the course of 2 and a half years. He's also recently a father, and this combination gives him a unique perspective on the childcare industry as a whole, as well as the ways technology and modern practice can affect it.
---
ABOUT THE HOSTS:
Caroline Jens, Owner, Child Care Biz Help is an innovative leader in the child care industry. Her background of finance paired with being an Executive Director of a multi-location center gives her a unique ability to see all aspects of child care centers.
Justina Paterson, Chief Marketing Officer, Child Care Biz Help is an asset to the industry on many levels. Her background in design and marketing, paired with her time spent in a classroom and in leadership gives her a unique viewpoint when it comes to the industry.
Recent Episodes: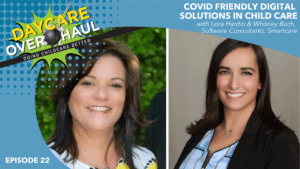 LISTEN This pandemic has allowed child care owners, directors, teachers and staff to shine. Child care is often chaotic, busy,…
KEEP READING