Leading Through the Unknown in Childcare – Episode 15
Richard Huffman, President & CEO of Celebree Schools joins Caroline & Justina on Daycare Overhaul this week! We were honored to have him join us and share his knowledge and wisdom on building a large child care organization and being able to thrive through a global pandemic.
Richard joins the podcast to talk about the history of Celebree schools and what lead him to open a childcare center. He also goes on to talk about how Celebree and it's 26 schools have adjusted, innovated and thrived through the pandemic. He also talks about Celebree's plans going forward and how they plan to continue to navigate the coming months.
RESOURCES:
---
ABOUT THE GUEST:
Richard O. Huffman is the founder, President, and CEO of Celebree Schools. Richie founded Celebree in 1994, growing the Celebree brand from a single preschool into 26 schools as of today. 
Richie's experience with early childhood education began in 1984 when his mother opened a daycare business called White Marsh Child Care Center. Between classes, Richie lent a hand to the family business, giving him an early understanding of the daycare and preschool industry.
Ten years later, Richie started a daycare center of his own, opening the first Celebree School in Ellicott City. Over the course of more than two decades, he grew Celebree from a single location into Maryland's largest privately held chain of child care centers. With Celebree's entry into the franchise sector, Richie now shares the secrets to his success with Celebree franchisees.
As the President and CEO of Celebree Schools, Richie continues to guide the core vision of our brand: a vision that embraces change, innovation, and the constant pursuit of self-improvement. Thanks to Richie's combination of leadership and experience, Celebree continues to set industry standards within the early childhood education sector.
---
ABOUT THE HOSTS:
Caroline Jens, Owner, Child Care Biz Help is an innovative leader in the child care industry. Her background of finance paired with being an Executive Director of a multi-location center gives her a unique ability to see all aspects of child care centers.
Justina Paterson, Chief Marketing Officer, Child Care Biz Help is an asset to the industry on many levels. Her background in design and marketing, paired with her time spent in a classroom and in leadership gives her a unique viewpoint when it comes to the industry.
Recent Episodes: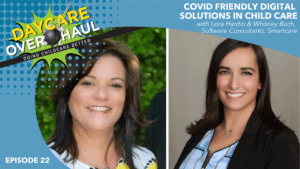 LISTEN RESOURCES: ABOUT THE GUESTS: ABOUT THE HOSTS: Table of Contents LISTEN RESOURCES: ABOUT THE GUESTS: ABOUT THE HOSTS: LISTEN…
KEEP READING