Mental Wellness in the Workplace – Episode 2
Stress in the workplace often affects more than just productivity. The stress often boils over into other aspects of life. In the childcare industry, Caroline & Justina believe that that stress is very different from other industries. Being an owner/administrator in childcare can often be very lonely, and the stress overwhelming. Listen in as they share their personal and vulnerable stories of stress & their mental health as it relates to childcare. Although, not medical professionals, they are childcare experts and are able to offer some tips and tricks they used and believe they help to try and combat that stress and strain on the mental wellbeing of those in the industry.
Having the conversation about mental wellness and stress is important. Too many people are afraid to have the conversation. Caroline & Justina want to be a part of breaking the stigma and talking about mental wellness and stress. They believe that sharing their own personal stories and struggles will allow others to have the conversation with someone too.
Child care is one of the few industries where you can feel all the emotions in one day, so taking the time to recognize it, feel it and work through it is important.
RESOURCES-
---
ABOUT THE HOSTS-
Caroline Jens, Owner, Child Care Biz Help is an innovative leader in the child care industry. Her background of finance paired with being an Executive Director of a multi-location center gives her a unique ability to see all aspects of child care centers.
Justina Paterson, Chief Marketing Officer, Child Care Biz Help is an asset to the industry on many levels. Her background in design and marketing, paired with her time spent in a classroom and in leadership gives her a unique viewpoint when it comes to the industry.
Recent Episodes: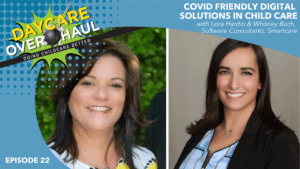 LISTEN This pandemic has allowed child care owners, directors, teachers and staff to shine. Child care is often chaotic, busy,…
KEEP READING