The Minds Behind Daycare Overhaul – Episode 1
Welcome to Daycare Overhaul - Doing Childcare Better!
Sit down with Caroline and Justina as they introduce themselves, their business, and how they want their podcast to impact -you- the listener. Hear the backstory of how they came to work with each other and how that relationship has brought them where they are today at Child Care Biz Help. Keep listening as they discuss the company, its core values and how they believe you can set your company up for success.
The pilot features Caroline & Justina talking about the foundation of Child Care Biz Help, the core values. They believe every company (not just child care) should not only have them, but live them every day. Core values are truly the foundation of any business, and Child Care Biz Help is no exception.
The pilot is the first of many unfiltered and real takes on what it takes to start a business, the stumbles encountered along the way, and how those choices ultimately made Child Care Biz Help what it is today.
RESOURCES-
---
ABOUT THE HOSTS-
Caroline Jens, Owner, Child Care Biz Help is an innovative leader in the child care industry. Her background of finance paired with being an Executive Director of a multi-location center gives her a unique ability to see all aspects of child care centers.
Justina Paterson, Chief Marketing Officer, Child Care Biz Help is an asset to the industry on many levels. Her background in design and marketing, paired with her time spent in a classroom and in leadership gives her a unique viewpoint when it comes to the industry.
Recent Episodes: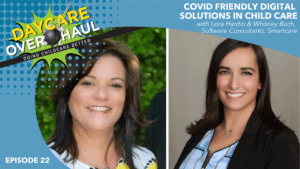 LISTEN This pandemic has allowed child care owners, directors, teachers and staff to shine. Child care is often chaotic, busy,…
KEEP READING